Parking brake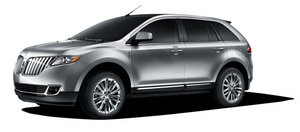 Apply the parking brake whenever the vehicle is parked. To set the parking brake, press the parking brake pedal down until the pedal stops.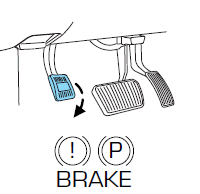 The BRAKE warning lamp in the instrument cluster illuminates and remains illuminated (when the ignition is turned on) until the parking brake is released.
WARNING: Always set the parking brake fully and make sure that the gearshift is securely latched in P (Park). Turn the ignition to the lock position and remove the key whenever you leave the vehicle. For vehicles with the push button start system, remove the IA key whenever you leave the vehicle.
The parking brake is not recommended to stop a moving vehicle.
However, if the normal brakes fail, the parking brake can be used to stop your vehicle in an emergency. Since the parking brake applies only the rear brakes, the vehicle's stopping distance will increase greatly and the handling of your vehicle will be adversely affected.
Press the parking brake pedal downward again to release the parking brake. Driving with the parking brake on will cause the brakes to wear out quickly and reduce fuel economy.
Note: If the vehicle is driven with the parking brake applied, a chime will sound.
See also:
Underbody
Flush the complete underside of your vehicle frequently. Keep body and door drain holes free from packed dirt. ...
Changing tires with a TPMS
Each road tire is equipped with a tire pressure sensor located inside the tire/wheel cavity. The pressure sensor is attached to the valve stem. The pressure sensor is covered by the tire and ...
Brakes
Occasional brake noise is normal. If a metal-to-metal, continuous grinding or continuous squeal sound is present, the brake linings may be worn-out and should be inspected by an authorized dealer. ...