Emergency maneuvers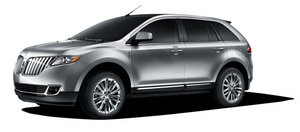 Х In an unavoidable emergency situation where a sudden sharp turn must be made, remember to avoid Уover-drivingФ your vehicle (i.e., turn the steering wheel only as rapidly and as far as required to avoid the emergency). Excessive steering will result in less vehicle control, not more. Additionally, smooth variations of the accelerator and/or brake pedal pressure should be utilized if changes in vehicle speed are called for. Avoid abrupt steering, acceleration or braking which could result in an increased risk of loss of vehicle control, vehicle rollover and/or personal injury. Use all available road surface to return the vehicle to a safe direction of travel.
Х In the event of an emergency stop, avoid skidding the tires and do not attempt any sharp steering wheel movements.
Х If the vehicle goes from one type of surface to another (i.e., from concrete to gravel) there will be a change in the way the vehicle responds to a maneuver (steering, acceleration or braking). Again, avoid these abrupt inputs.
See also:
Jump starting
1. Start the engine of the booster vehicle and run the engine at moderately increased speed. 2. Start the engine of the disabled vehicle. 3. Once the disabled vehicle has been started, run both ...
Changing the air filter element
1. Release the clamps that secure the air filter housing cover. 2. Carefully separate the two halves of the air filter housing. 3. Remove the air filter element from the air filter housing. ...
New styling
The changes ensure a recognizable Lincoln family look going forward. The grille and front fascia all are new, as are the wheel selections. "The effort behind the new look was to change the pro ...