Emergency maneuvers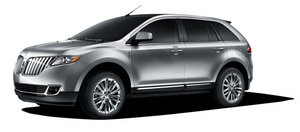 • In an unavoidable emergency situation where a sudden sharp turn must be made, remember to avoid "over-driving" your vehicle (i.e., turn the steering wheel only as rapidly and as far as required to avoid the emergency). Excessive steering will result in less vehicle control, not more. Additionally, smooth variations of the accelerator and/or brake pedal pressure should be utilized if changes in vehicle speed are called for. Avoid abrupt steering, acceleration or braking which could result in an increased risk of loss of vehicle control, vehicle rollover and/or personal injury. Use all available road surface to return the vehicle to a safe direction of travel.
• In the event of an emergency stop, avoid skidding the tires and do not attempt any sharp steering wheel movements.
• If the vehicle goes from one type of surface to another (i.e., from concrete to gravel) there will be a change in the way the vehicle responds to a maneuver (steering, acceleration or braking). Again, avoid these abrupt inputs.
See also:
Vehicle identification number (VIN)
The vehicle identification number is located on the driver side instrument panel. Please note that in the graphic, XXXX is representative of your vehicle identification number. The Vehic ...
Driving while you tow
When towing a trailer: • Do not drive faster than 70 mph (113 km/h) during the first 500 miles (800 km) of trailer towing and don't make full-throttle starts. • Turn off the speed control. The ...
Starting the engine with remote start
The remote start label on your transmitter details the engine starting procedure. To start the engine using remote start: Note: Each button press must be done within three seconds of each other ...