Wheel lug nut torque specifications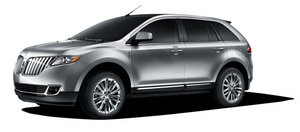 Retighten the lug nuts to the specified torque within 100 miles (160 km) after any wheel disturbance (rotation, flat tire, wheel removal, etc.).

WARNING: When a wheel is installed, always remove any corrosion, dirt or foreign materials present on the mounting surfaces of the wheel or the surface of the wheel hub, brake drum or brake disc that contacts the wheel. Ensure that any fasteners that attach the rotor to the hub are secured so they do not interfere with the mounting surfaces of the wheel. Installing wheels without correct metal-to-metal contact at the wheel mounting surfaces can cause the wheel nuts to loosen and the wheel to come off while the vehicle is in motion, resulting in loss of control.
Note: Inspect the wheel pilot hole (1) and mounting surface prior to installation. Remove any visible corrosion or loose particles.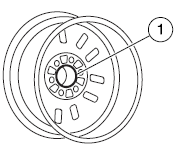 See also:
Easy entry/exit feature
This feature automatically moves the steering wheel all the way up and in and moves the driver's seat rearward 2 in. (5 cm) when: • the transmission is in N (Neutral) or P (Park) • the ignition ...
Dual automatic temperature control (datc) systemwith mytemp
Note: Your climate control system is touch sensitive. You need only lightly touch the control graphic to activate the feature. Note: Your vehicle is also equipped with touchscreen climate contr ...
Auxiliary power point (12V DC)
Power outlets are designed for accessory plugs only. Do not insert any other object in the power outlet as this will damage the outlet and blow the fuse. Do not hang any type of accessory or acc ...