Emergency towing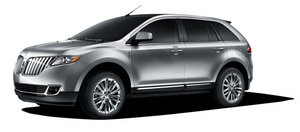 In case of a roadside emergency with a disabled vehicle (without access to wheel dollies, car hauling trailer, or flatbed transport vehicle) your vehicle (regardless of transmission powertrain configuration) can be flat towed (all wheels on the ground) under the following conditions:
Х Vehicle is facing forward so that it is being towed in a forward direction.
Х Place the transmission in N (Neutral). Refer to Brake-shift interlock in the Driving chapter for specific instructions if you cannot move the gear shift lever into N (Neutral).
Х Maximum speed is not to exceed 35 mph (56 km/h).
Х Maximum distance is 50 miles (80 km).
See also:
Steering
The Lincoln MKS steering system received a thorough makeover for 2013. The gear ratio is quicker (15:1 for 2013 vs. 17.1:1 for today's MKS), making the steering more immediately responsive at all sp ...
Checking automatic transmission fluid at normal operating temperature (140∞F-158∞F [60∞C-70∞C])
Automatic transmission fluid expands when warmed. To obtain an accurate fluid check, drive the vehicle until it is warmed up (approximately 20 miles [30 km]) until the engine coolant gauge indic ...
Heated seats
WARNING: Persons who are unable to feel pain to the skin because of advanced age, chronic illness, diabetes, spinal cord injury, medication, alcohol use, exhaustion, or other physical conditions ...