Instrument panel/interior trim and cluster lens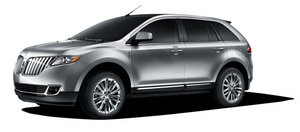 Clean the instrument panel, interior trim areas and cluster lens with a clean, damp, white cotton cloth, then use a clean and dry white cotton cloth to dry these areas.
• Avoid cleaners or polishes that increase the gloss of the upper portion of the instrument panel. The dull finish in this area helps protect the driver from undesirable windshield reflection.
• Be certain to wash or wipe your hands clean if you have been in contact with certain products such as insect repellent and suntan lotion in order to avoid possible damage to the interior painted surfaces.
• Do not use household or glass cleaners as these may damage the finish of the nstrument panel, interior trim and cluster lens.
• Do not allow air fresheners and hand sanitizers to spill on interior surfaces. If a spill occurs, wipe off immediately. Damage may not be covered by your warranty.
WARNING: Do not use chemical solvents or strong detergents when cleaning the steering wheel or instrument panel to avoid contamination of the airbag system.
If a staining liquid like coffee/juice has been spilled on the instrument panel or on interior trim surfaces, clean as follows:
1. Wipe up spilled liquid using a clean, white, cotton cloth.
2. Wipe the surface with a damp, clean, white cotton cloth. For more thorough cleaning, use a mild soap and water solution. If the spot cannot be completely cleaned by this method, the area may be cleaned using a commercially available cleaning product designed for automotive interiors.
3. If necessary, apply more soap and water solution or cleaning product to a clean, white, cotton cloth and press the cloth onto the soiled area–allow this to set at room temperature for 30 minutes.
4. Remove the soaked cloth, and if it is not soiled badly, use this cloth to clean the area by using a rubbing motion for 60 seconds.
5. Following this, wipe area dry with a clean, white, cotton cloth.
See also:
Power distribution box
The power distribution box is located in the engine compartment. The power distribution box contains high-current fuses that protect your vehicle's main electrical systems from overloads. WARNING ...
Cargo management system
The cargo management system consists of storage compartments located in the floor of the rear cargo area. 1. To open, lift the release handle and the lid. 2. To close, lower the lid. ...
Engine oil and filter recommendations
3.7L V6 engine Look for this certification trademark. Use SAE 5W-20 engine oil Only use oils certified for gasoline engines by the American Petroleum Institute (API). An oil with this tradem ...