Windshield washer fluid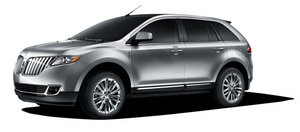 Add fluid to fill the reservoir if the level is low. In very cold weather, do not fill the reservoir completely.
Only use a washer fluid that meets Ford specifications. Do not use any special washer fluid such as windshield water repellent type fluid or bug wash. They may cause squeaking, chatter noise, streaking and smearing. Refer to Maintenance product specifications and capacities in this chapter.

State or local regulations on volatile organic compounds may restrict the use of methanol, a common windshield washer antifreeze additive.
Washer fluids containing non-methanol antifreeze agents should be used only if they provide cold weather protection without damaging the vehicle's paint finish, wiper blades or washer system.
WARNING: If you operate your vehicle in temperatures below 40°F (5°C), use washer fluid with antifreeze protection. Failure to use washer fluid with antifreeze protection in cold weather could result in impaired windshield vision and increase the risk of injury or accident.
See also:
Preparing your vehicle
When the battery is disconnected or a new battery is installed, the automatic transmission must relearn its shift strategy. As a result, the transmission may have firm and/or soft shifts. This ope ...
What you should know about fail-safe cooling
If the engine coolant supply is depleted, this feature allows the vehicle to be driven temporarily before incremental component damage is incurred. The "fail-safe" distance depends on ambient tempe ...
Tire and wheel alignment
A bad jolt from hitting a curb or pothole can cause the front end of your vehicle to become misaligned or cause damage to your tires. If your vehicle seems to pull to one side when you're driving, ...