Front passenger sensing system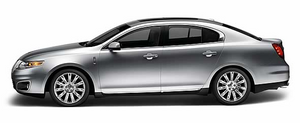 For airbags to do their job they must inflate with great force, and this force can pose a potentially deadly risk to occupants that are very close to the airbag when it begins to inflate. For some occupants, this occurs because they are initially sitting very close to the airbag. For other occupants, this occurs when the occupant is not properly restrained by safety belts or child safety seats and they move forward during pre-crash braking. The most effective way to reduce the risk of unnecessary injuries is to make sure all occupants are properly restrained. Accident statistics suggest that children are much safer when properly restrained in the rear seating positions than in the front.
WARNING: Air bags can kill or injure a child in a child seat.
NEVER place a rear-facing child seat in front of an active air bag. If you must use a forward-facing child seat in the front seat, move the seat all the way back.
WARNING: Always transport children 12 years old and under in the back seat and always properly use appropriate child restraints.
The front passenger sensing system can automatically turn off the front passenger airbag and passenger seat-mounted side airbag. The system is designed to help protect small (child size) occupants from frontal airbag deployments when they are seated or restrained in the front passenger seat contrary to proper child-seating or restraint usage recommendations. Even with this technology, parents are STRONGLY encouraged to always properly restrain children in the rear seat. The sensor also turns off the passenger front airbag and passenger seat-mounted side airbag when the passenger seat is empty and the safety belt is unbuckled, or when a child or a small person occupies the front passenger seat and the safety belt is unbuckled.
See also:
The better business bureau (BBB) auto line program(U.S. ONLY)
Your satisfaction is important to Ford Motor Company and to your dealer. If a warranty concern has not been resolved using the three-step procedure outlined earlier in this chapter in the Getting ...
Electronic stability control (ESC)
Electronic stability control (ESC) may enhance your vehicle's directional stability during adverse maneuvers, for example when cornering severely or avoiding objects in the roadway. ESC operates b ...
Oils, Fluids and Flushing
In many cases, fluid discoloration is a normal operating characteristic and, by itself, does not necessarily indicate a concern or that the fluid needs to be changed. However, discolored fluids th ...