Belt-Minder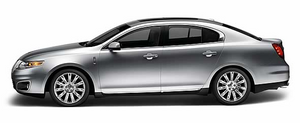 The Belt-Minder feature is a supplemental warning to the safety belt warning function. This feature provides additional reminders by intermittently sounding a chime and illuminating the safety belt warning light in the instrument cluster when the driver's and front passenger's safety belt is unbuckled.
The Belt-Minder feature uses information from the front passenger sensing system to determine if a front seat passenger is present and therefore potentially in need of a warning. To avoid activating the Belt-Minder feature for objects placed in the front passenger seat, warnings will only be given to large front seat occupants as determined by the front passenger sensing system.
Both the driver's and passenger's safety belt usages are monitored and either may activate the Belt-Minder feature. The warnings are the same for the driver and the front passenger. If the Belt-Minder warnings have expired (warnings for approximately five minutes) for one occupant (driver or front passenger), the other occupant can still activate the Belt-Minder feature.
When the Belt-Minder feature is activated, the safety belt warning light illuminates and the warning chime sounds for six seconds every 30 seconds, repeating for approximately five minutes or until the safety belts are buckled.
The Belt-Minder feature uses two different warning chimes. During the first minute of activation, the warning chime will sound once every second. The remaining warning chimes will sound twice every second while the system is activated.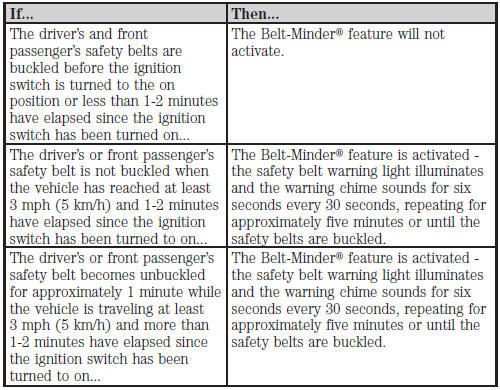 The following are reasons most often given for not wearing safety belts (All statistics based on U.S. data):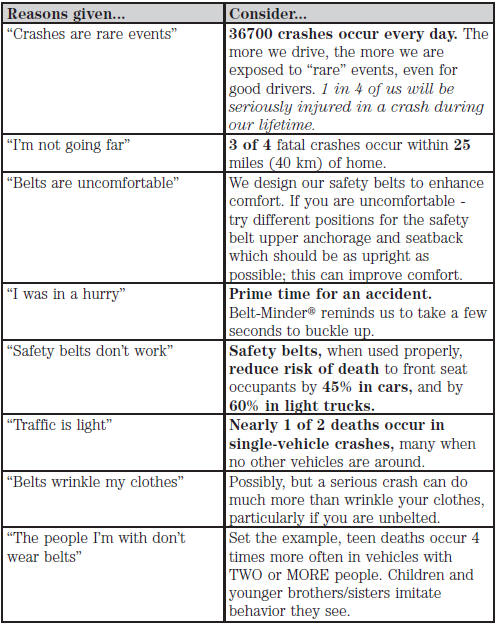 WARNING: Do not sit on top of a buckled safety belt or insert a latchplate into the buckle to avoid the Belt-Minder chime. To do so may adversely affect the performance of the vehicle's airbag system.
See also:
Auxiliary power point (12v dc)
Power outlets are designed for accessory plugs only. Do not insert any other object in the power outlet as this will damage the outlet and blow the fuse. Do not hang any type of accessory or acc ...
Driving on slippery surfaces with AWD vehicles
AWD vehicles are specially equipped for driving on sand, snow, mud and rough roads and have operating characteristics that are somewhat different from conventional vehicles, both on and off the hi ...
The better business bureau (BBB) auto line program(U.S. ONLY)
Your satisfaction is important to Ford Motor Company and to your dealer. If a warranty concern has not been resolved using the three-step procedure outlined earlier in this chapter in the Getting ...