EXTERIOR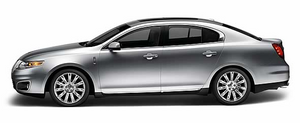 The Lincoln MKZ has status. Redesigned for 2010, it's well-suited for the country club set. My kids thought it was fancy, which made them feel special and made me feel like a chauffeur. The tall, shimmering grille reminded me of a butterfly, with its two wings separated by the Lincoln emblem.
The MKZ has lots of power with its 263-horsepower, 3.5-liter V-6 that runs on regular gas. It gets an EPA-estimated 18/27 mpg city/highway.
This sedan is so family-friendly that my kids became almost completely independent in it. With doors they could open and close on their own and a backseat they could easily step into, they were getting settled without any help from me. Although I'm sure it was meant to hold golf bags, the trunk easily swallowed a week's worth of groceries. The bags were well within even my 4-year-old's reach — at least the bags closest to the opening. This allowed both boys to help Mommy unload the trunk.
My only real displeasure with the MKZ's exterior is the rear window is far too small for adequate visibility. The large head restraints for the second row also didn't help matters.