2010 Lincoln MKZ Review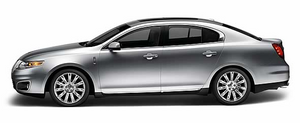 If you spend any amount of time trying to appear younger or seeking affirmation that you couldn't possibly look your age, the 2010 Lincoln MKZ isn't for you. The MKZ is a classy, luxurious and comfortable sedan, but it tends to be more interested in routing you to the local diner or golf course rather than the elementary school, park, or any shops or restaurants that would be considered trendy. I felt like I was driving my grandpa's car the whole week of my test drive.
The MKZ has a starting MSRP of $34,225; my front-wheel-drive test car cost $40,560.
From a performance perspective, the MKZ has plenty of power stowed away for the odd chance you might need to rush somewhere. Its ride is super smooth without so much as a jolt. It's a graceful car that would choose a Sunday drive over a rush-hour haul.
To be fair, the MKZ does have all the elements necessary for making a great family car. The kids were able to get in and out easily, and the cargo area was huge. There's no wrestling to get the stroller in the trunk of this ride.