INTERIOR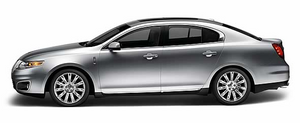 The 2010 MKZ's redesign included many changes to the interior, which is clean-looking and clutter-free. I liked the delicate swooshes of real wood accenting the interior doors and the no-nonsense approach to the center stack and related controls. My test car had the Sync system as well as dual-zone climate control.
The leather seats are comfy, and in the first row, they're power-adjustable and heated. My 6-foot husband and I had plenty of legroom in the front, and my kids had lots of it in the backseat, as well. The boys also liked that the backseat's cupholders were easy to reach in the armrest.
Out of curiosity, I hopped into the second row to get a feel for the center seat. It wasn't great because of the hump in the floor, which pushed my feet and legs into an uncomfortable position. When I tried buckling up with a boy in a booster seat on either side of me, there were wars over buckle receptors. I'm not proud.
I was really surprised by the sound system in this five-seater. My test car had the optional THX II audio system. It truly has theater-like sound, which was an enjoyable surprise for a car we thought was for older people. It pounded out our Miley Cyrus and Lady Gaga just fine.
See also:
Fuel pump shut-off
In the event of a moderate to severe collision, this vehicle is equipped with a fuel pump shut-off feature that stops the flow of fuel to the engine. Not every impact will cause a shut-off. Sho ...
Tire pressure monitoring system (TPMS)
Each tire, including the spare (if provided), should be checked monthly when cold and inflated to the inflation pressure recommended by the vehicle manufacturer on the vehicle placard or tir ...
Real-time damping
Compared to the fixed-rate damper standard on the 2012 MKT, the CCD damper on the 2013 MKT offers dramatically expanded control range. CCD utilizes 46 inputs to feed data to a sophisticated control ...