Starting your vehicle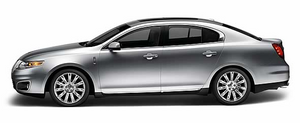 This system meets all Canadian interference-causing equipment standard requirements regulating the impulse electrical field strength of radio noise.
Don't press the accelerator before or during starting. Only use the accelerator when you have difficulty starting the engine. For more information on starting the vehicle, refer to Starting the engine in this chapter.
To avoid potential transmission damage at extremely cold temperatures (below -20°F [-30°C]), it is recommended that the vehicle be warmed up to normal operating temperature before driving at highway speeds above 50 mph (80 km/h). Normal operating temperature is normally reached after 10 minutes of moderate driving or idling.
WARNING: Extended idling at high engine speeds can produce very high temperatures in the engine and exhaust system, creating the risk of fire or other damage.
WARNING: Do not park, idle, or drive your vehicle in dry grass or other dry ground cover. The emission system heats up the engine compartment and exhaust system, which can start a fire.
WARNING: Do not start your vehicle in a closed garage or in other enclosed areas. Exhaust fumes can be toxic. Always open the garage door before you start the engine. See Guarding against exhaust fumes in this chapter for more instructions.
WARNING: If you smell exhaust fumes inside your vehicle, have your dealer inspect your vehicle immediately. Do not drive if you smell exhaust fumes.
See also:
Driving style — good driving and fuel economy habits
Give consideration to the lists that follow and you may be able to change a number of variables and improve your fuel economy. Habits • Smooth, moderate operation can yield up to 10% savings in fu ...
Personal safety system™
The Personal Safety System provides an improved overall level of frontal crash protection to front seat occupants and is designed to help further reduce the risk of airbag-related injuries. The sy ...
Safety
There's a standard brake-based stability control system with rollover mitigation, and a tire pressure monitoring system, both of which are must-haves for large SUVs. Tire pressure is always import ...