Driving with blind spot mirrors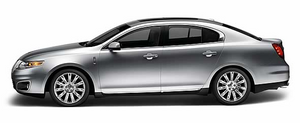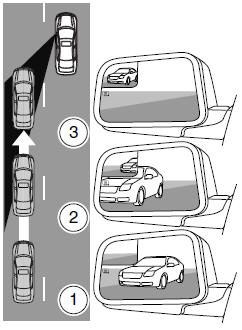 Before a lane change, check the main mirror first, then check the blind spot mirror. If no vehicles are present in the blind spot mirror and the traffic in the adjacent lane is at a safe distance, signal that you are going to change lanes. Glance over your shoulder to verify traffic is clear, and carefully change lanes.
When the approaching vehicle is at a distance, its image is small and near the inboard edge of the main mirror. As the vehicle approaches, the image becomes larger and begins to move outboard across the main mirror (1). As the vehicle approaches its image will transition from the main mirror and begin to appear in the blind spot mirror (2).
As the vehicle leaves the blind spot mirror it will transition to the driver's peripheral field of view (3).
WARNING: Objects in the blind spot mirror are closer than they appear.
See also:
Panel dimmer control
Use to adjust the brightness of the instrument panel and all applicable lit components in the vehicle during headlamp and parking lamp operation. • Tap the top or bottom of the control to ...
Driving off-highway with AWD vehicles
AWD vehicles are equipped for driving on sand, snow, mud and rough roads and have operating characteristics that are somewhat different from conventional vehicles, both on and off the highway. ...
Front crash severity sensor
The front crash severity sensor enhances the ability to detect the severity of an impact. Positioned up front, it provides valuable information early in the crash event on the severity of the impa ...