Wheel lug nut torque specifications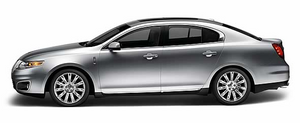 WARNING: When a wheel is installed, always remove any corrosion, dirt or foreign materials present on the mounting surfaces of the wheel or the surface of the wheel hub, brake drum or brake disc that contacts the wheel. Ensure that any fasteners that attach the rotor to the hub are secured so they do not interfere with the mounting surfaces of the wheel. Installing wheels without correct metal-to-metal contact at the wheel mounting surfaces can cause the wheel nuts to loosen and the wheel to come off while the vehicle is in motion, resulting in loss of control.
Retighten the lug nuts to the specified torque within 100 miles (160 km) after any wheel disturbance (tire rotation, changing a flat tire, wheel removal, etc.).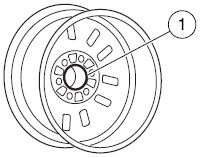 Note: Inspect the wheel pilot bore (1) and mounting surface prior to installation. Remove any visible corrosion or loose particles.
See also:
If your vehicle gets stuck
If your vehicle gets stuck in mud or snow it may be rocked out by shifting between forward and reverse gears, stopping between shifts, in a steady pattern. Press lightly on the accelerator in each ...
Anti-scan feature
If the wrong code has been entered seven times (35 consecutive button presses), the keypad will go into an anti-scan mode. This mode disables the keypad for one minute and the keypad lamp will fla ...
Setting adaptive cruise control
1. Press and release ON. The message center will display the gray ACC indicator light, current gap setting and SET. 2. Accelerate to the desired speed. 3. Press SET upward and release. ...