MKZ in the Market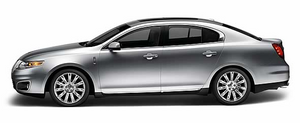 Despite the MKZ's positive attributes, it's going to have a tough go of it in the market. The competition is strong and getting stronger; besides the aforementioned TL and ES, the MKZ is up against a redesigned Buick LaCrosse and the impressive Infiniti G sedan. Also, luxury cars are statement cars. Lexus stands for refinement, and Acura for the latest technology. I'm not sure what statement the MKZ makes, and I question whether it can cut through the noise and connect with consumers. It will be unfortunate if it can't, though; luxury-car shoppers will find a lot to like in the new MKZ if they take the time to give it a look.
See also:
Camera- and Radar-Based Driving Aids
The new Lincoln MKZ offers the Lane Keeping System, a suite of advanced driving aids that helps drivers avoid drifting from their lane due to distraction or fatigue. Consisting of Lane Keeping Aid ...
Maintenance product specifications and capacities
Approximate dry fill capacity. Actual amount may vary during fluid changes. Automatic transmissions that require MERCON LV should only use MERCON LV fluid. Refer to scheduled maintenanc ...
All-wheel drive (AWD) system (if equipped)
Your vehicle may be equipped with a full-time all-wheel drive (AWD) system. With the AWD option, power will be delivered to the front wheels and distributed to the rear wheels as needed. This incr ...