New chassis technology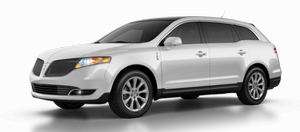 Making a full-size crossover ride smoothly but handle well can be a real challenge.
"The 2013 MKT with Continuously Controlled Damping delivers a surprisingly vibrant blend of ride and handling. It's more than you'd expect from a full-size, three-row luxury crossover," said Scott Tobin, Director, Lincoln Product Development.
Continuously Controlled Damping (CCD) is fitted to the new Lincoln MKT when the crossover is equipped with the optional 3.5-liter EcoBoost V6 engine. The adjustable suspension enables a more confident driving experience that defines the Lincoln DNA balance of ride comfort and handling. Regardless of road conditions, drivers will enjoy a markedly smoother, more controlled ride because CCD is always tuning and refining the ride quality.
The fully integrated system delivers its on-road benefit by significantly expanding the chassis's capabilities compared to a chassis with nonadjustable struts and shock absorbers, known as dampers by chassis engineers.
See also:
When Your Temporary Spare Tire Is Installed
When one of your road tires needs to be replaced with the temporary spare, the TPMS will continue to identify an issue to remind you that the damaged road wheel/tire needs to be repaired and put b ...
Wheel lug nut torque specifications
Retighten the lug nuts to the specified torque within 100 miles (160 km) after any wheel disturbance (rotation, flat tire, wheel removal, etc.). WARNING: When a wheel is installed, always remove ...
Driver and passenger dual-stage airbag supplemental restraints
The dual-stage airbags offer the capability to tailor the level of airbag inflation energy. A lower, less forceful energy level is provided for more common, moderate-severity impacts. A higher ene ...