Refueling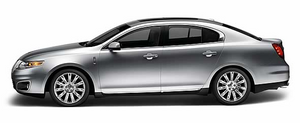 WARNING: Fuel vapor burns violently and a fuel fire can cause severe injuries. To help avoid injuries to you and others:
Х Read and follow all the instructions on the pump island;
Х Turn off your engine when you are refueling;
Х Do not smoke if you are near fuel or refueling your vehicle;
Х Keep sparks, flames and smoking materials away from fuel;
Х Stay outside your vehicle and do not leave the fuel pump unattended when refueling your vehicle Ч this is against the law in some places;
Х Keep children away from the fuel pump; never let children pump fuel.
Х Do not use personal electronic devices while refueling. It can ignite fuel vapors.
Use the following guidelines to avoid electrostatic charge build-up when filling an ungrounded fuel container:
Х Place approved fuel container on the ground.
Х DO NOT fill a fuel container while it is in the vehicle (including the cargo area).
Х Keep the fuel pump nozzle in contact with the fuel container while filling.
Х DO NOT use a device that would hold the fuel pump handle in the fill position.
See also:
Steering
The steering system for the new MKT is improved, too. The gear ratio is quicker (15:1 for 2013 vs. 17.1:1 for 2012), making the steering more immediately responsive. All new Lincoln MKT models ben ...
Important information for P265/40R22 low-profile tires and wheels
If your vehicle is equipped with P265/40R22 tires, they are low-profile tires. These tires and wheels are designed to give you r vehicle a sport appearance. With low-profile tires, you may notice ...
Center console
Your vehicle may be equipped with a variety of console features. These include: 1. Cupholders 2. Utility compartment with in-bin power point, removable coin holder tray (two grooves on tray ...