Performance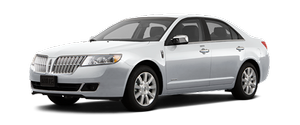 The most striking aspect of the MKS' performance is its steering. From the looks and the sheer size of the car, I was expecting a driving experience akin to yachting, not carving corners. I was wrong; the driving experience doesn't rival a Corvette's, but Lincoln should be proud of how precisely the MKS steers.
Whether you're in a tight parking garage or taking a highway on-ramp, the steering wheel requires little effort to move the car where you want it to be. The feel of the wheel and how the car reacts are completely intuitive Ч much better than any car this size or price has a right to be. I would rate it up there with any Cadillac (if not better than larger models like the DTS) and even imports like the Volvo S80, with which the MKS shares its platform.
However, you do sacrifice ride comfort for this steering precision. I was shocked at how bumpy the ride was on rough roads. The MKS reminded me of a sport-tuned BMW 5 Series in terms of ride comfort Ч and that's not a positive comparison to a BMW 5 Series Ч instead of a big American sedan. Maybe I'm strange, but I like a cushy ride out of my big American sedans, and I think most buyers of big American sedans feel the same way.
My test car was an all-wheel-drive version, which can translate to a rougher ride, but I don't believe that was the reason for my experience. Front-wheel drive is standard on the base MKS, which starts at $37,665, while the all-wheel-drive MKS starts at $39,555. What weren't standard were the 19-inch wheels my test car had, which again would contribute to a rougher ride. The standard wheels, though, are 18-inchers, and I'd bet the resulting ride wouldn't be dramatically improved. Other Cars.com reviewers also commented on the rough ride as an MKS negative.
Power is adequate if not overwhelming, coming from Ford's capable 273-horsepower, 3.7-liter V-6. There's plenty of passing power, with little engine noise intruding into the cabin. It's not Lexus-silent, but it's certainly as quiet as most automakers' big sedans; Lexus' cars are just eerily quiet. Lincoln will introduce a turbocharged V-6 for the MKS in calendar 2009, which should add an air of performance to the MKS. It already has the steering and rough ride of a performance sedan, so the turbo makes a lot of sense.
Fuel economy is decent, at 17/24 mpg city/highway for front-wheel-drive models and 16/23 mpg with all-wheel drive. I achieved sub-20 mpg figures in the real world, but I also drove quite a bit in ultra-congested Chicago. Cadillac's aging STS V-6 with rear-wheel drive somehow manages 17/26 mpg with more power.
The MKS also comes with an auto-shift function for the six-speed automatic transmission that allows you to manually select gears without a clutch. Like in most cars with this feature, you move the gear selector up or down to shift gears. The MKS' shifter responds with loud "thunks" each time. No, that's not an engine noise; it's emanating from the shifter. I rarely find this function useful in such cars, and in this one it's definitely a detractor. As is true in most non-performance cars, the MKS' standard automatic operation is far superior to using the manual function, and it still isn't the smoothest transmission in the segment.
See also:
Maintenance product specifications and capacities
Approximate dry fill capacity. Actual amount may vary during fluid changes. Automatic transmissions that require MERCON LV should only use MERCON LV fluid. Refer to scheduled maintenanc ...
Power door locks
Х Press the control to unlock all doors. Х Press the control to lock all doors. ...
Connecting the jumper cables
Note: In the illustration, the vehicle on the bottom is used to designate the assisting (boosting) battery. 1. Connect the positive (+) jumper cable to the positive (+) terminal of the discha ...