Interior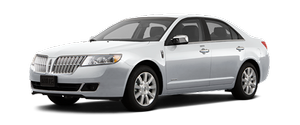 Lincoln has taken a leap forward inside the MKS. My test vehicle was decked out in thick, off-white leather that was wrapped around the seats and doors. It's of decent quality, about on par with what you find in Volvo and Lexus cars. I found the front seats extremely comfortable, and it was easy enough to find a good seating position. The backseat is also spacious, as you'd expect from something in this class. Heated and air-conditioned front seats are also standard. Unlike other brands with the feature, these A/C seats really do the job.
The leather- and wood-trimmed dashboard was respectable, but didn't look or feel as luxurious as the seats. The same could be said of the gauges and center controls, which looked like they were from a lower grade of vehicle — namely a Ford.
While they were decent-quality, none of the controls you interact with had the feeling of luxury that a car in this price range should have. This is what separates Lincoln from a Volvo S80, which has similar pricing. While Volvo has gorgeous metal gauges and a unique center swath of controls, the MKS adds a bit of chrome-like film to its plastic buttons, and that's about it.
Luckily, this downside isn't a big enough one to completely ruin the MKS. If you can look beyond it to the car's state-of-the-art control screen and the voice-activated technology hidden behind the scenes, the interior will prove to be a winner.
See also:
Identifying components in the engine compartment
3.5L V6 engine 1. Power steering fluid reservoir 2. Transmission fluid dipstick 3. Brake fluid reservoir 4. Battery 5. Power distribution box 6. Air filter assembly 7. Engine oil dipstick 8. ...
Replacing license plate lamp bulbs
1. Make sure the headlamp switch is in the off position. 2. Remove the two screws from the license plate lamp assembly. 3. Remove bulb socket by turning counterclockwise. 4. Carefully pull ...
Electronic compass
The compass heading is displayed in the center integrated display (CID). The compass reading may be affected when you drive near large buildings, bridges, power lines and powerful broadcast antenna ...