2009 Lincoln MKS Review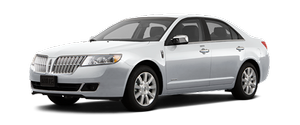 When I was a tween, my older brother had a late-1960s Ford LTD. It was gold, HUGE in a sort of exaggerated way, and it had an old-school charm and soulfulness about it that was unforgettable. I hadn't been in another car with that sort of vibe until I stepped into the 2009 Lincoln MKS.
Let me be clear: The MKS is far posher than my brother's car, but the MKS' vibe is the same for me. While driving the 2009 MKS, I forewent my usual NPR station and kept the Sirius Satellite Radio tuned to Hip Hop Nation and The Heat channels so I could properly groove to the sounds of Kanye, Mary J. and Lil' Wayne. If you're wondering why I didn't go with the Soul Town channel with its 1960s and '70s hits, it's because the 2009 MKS - while soulful with an old-school charm - is a totally modern piece of machinery that deserves a modern soundtrack.
The 2009 Lincoln MKS is comfy, safe and roomy (in fact, it's HUGE, just like my bro's LTD), and it offers a smooth ride. It has plenty of luxury amenities, and I enjoyed my time with it. But there are a few things preventing the MKS from being the quintessential mom-mobile: The gas mileage isn't great (I averaged about 19 mpg); something as simple as changing the clock's time isn't quite so simple; the doors are pretty heavy; and there's no auto-close button for the hefty trunk. With all of that said, however, I had to face the fact that this isn't a car that was designed with moms in mind. The MKS is geared toward a slightly older, more urbane demographic; so I tempered my mom-centric attitude and ultimately enjoyed my ride in what could eventually become an urbane legend.
As far as looks are concerned, the MKS is handsome. The test car I drove had a sparkly metallic paint job in Tuxedo Black that glistened in the sunlight. It reminded me of a formally dressed man who's eager to show off his dashing looks. With its 19-inch cast aluminum wheels and formidable facade, this car has a presence that's due in part to its styling, but also in part to its sheer size. Have I mentioned that the MKS is B-I-G? As a parent, you may be saying to yourself, "Big is good," but that's only somewhat true.
The MKS' doors are heavy, but the trunklid is the heaviest, and it didn't have an auto-shut button. Imagine, if you will, trying to carry two children (one of whom is in an infant-safety seat), grab some groceries from the trunk and, oh yeah, shut the car's front and back doors and the trunklid. It's impossible. It takes both of your hands and most of your strength just to shut the trunk. On the upside, the trunk is humongous, which made me forgive it a bit for having such a heavy door. It swallowed my groceries with room to spare and could fit more baby gear than I even own.
A car with an exterior length of 204.1 inches better have a big trunk though, right? The MKS is a good 2 feet longer than the sedan I normally drive, and thus I felt like I was driving a limo (which I've never done but can imagine). It barely fit in my garage; I couldn't get things in and out of the trunk unless the garage door was open. I'm someone who likes to close the garage right after I pull in - mostly for safety reasons - and the MKS made that impossible.
There are a couple of exterior features, however, that merited my adulation. I loved the capless fuel tank. This is something Ford/Lincoln/Mercury is putting on new models, and it takes half a second to get used to. There are no more lost or forgotten caps, and it's one less step for you at the pump. The heated power side mirrors with memory are also great; I've had issues in the past with my mirrors being iced over in the winter, and this would abolish that completely.
SENSE AND STYLE Family Friendly (Not Really, Fair, Great, Excellent): Fair Fun-Factor (None, Some, Good Times, Groove-On): Good Times
Daylight-saving time occurred while I was testing the MKS. There's a modern phenomenon called feature creep, by which the proliferation of technological features can overcomplicate things to the point at which the simplest designs and functions are lost. That's a long-winded way to tell you that I couldn't figure out how to set the time on the clock on the very modern MKS. I first attempted it without referring to the owner's manual (in a perfect world, something as simple as setting the clock shouldn't require literature); when I discovered that I couldn't figure it out on my own, I cozied up with the car's manual, which instructed me to press the "CLOCK" button, etc. But there wasn't a CLOCK button anywhere in the car. I thought about calling a manufacturer's rep or even popping into a dealer, but I didn't on principle because it's a clock for goodness sake, and I don't have time to go chasing down clock info. Alas, I spent the week having to subtract one hour from the clock in order to determine the correct time. I was told there'd be no math on this test (drive), so that stunk.
Have I mentioned that this is a big car? It's supposed to seat five people, and guess what? It actually can fit five adults comfortably. I could even sit easily in the back between my kids' car seats, which were easy to install with the nicely marked Latch connectors, by the way. Furthermore, the 12-way power adjustable seats were some of the most comfortable I've ever had the pleasure of using. They gently hugged me with silky smooth leather, and the standard heating and cooling feature on the front seats was delectable. The backseat also comes standard with heated seats as well.
The glove box is the best out of all of the MKS' interior storage options, and it can hold enough extra diapers and wipes to get you through the week. The other interior storage compartments aren't anything spectacular (four cupholders and door pockets that are of average size and usability), except for one little rectangular cubby near the gearshift that's a perfect fit for your cell phone and/or MP3 player and even a lip gloss.
My test car came with the Ultimate Package. At $5,715, it adds everything you could hope for in a luxury vehicle (except for the ability to change the clock...do I sound bitter yet?) and pushes the MKS into aforementioned urbane-legend category. This package includes voice-activated navigation, which turns the standard Sync system into a virtual font of information that can give you not only directions to the nearest movie theater or gas station but also movie times and gas prices. The Ultimate Package also has keyless entry and ignition; a forward sensor to warn of obstacles in front of you (which turned out to be very useful when I pulled into my garage since I had to "kiss" some storage cabinets to fit the car in, and without the sensor, I'd have smushed the cabinets); and, the coup de grace for my son, the dual-panel moonroof. He'd just chill out in his car seat and tell me about all of the things he was seeing above him as we drove along. Good times.
IT'S THE LITTLE THINGS THAT COUNT Storage Compartments (Puny, Fair, Ample, Galore): Fair/Ample Cargo/Trunk Space (Puny, Fair, Ample, Galore): Galore
The folks at Lincoln didn't skimp on safety with the MKS. It comes standard with front side-impact airbags as well as side curtain airbags for both the front and back rows. The side curtain airbags even have a sensor that can tell them to stay inflated longer should a rollover accident occur. Antilock brakes and stability and traction control are also standard.
The car that I drove was all-wheel drive, something a Colorado girl like me can truly appreciate, although you can get the MKS with front-wheel drive only (for about $2,000 less). The headlights are also worth mentioning: The adaptive headlights with auto high beam, which were included in the Ultimate Package, swivel as you turn the steering wheel so you can see the dark corners and curves in the road. I'm not a huge fan of night driving, but honestly, this made it almost fun.
The backup camera, part of the Ultimate Package, is fabulous; the screen's image is crystal clear and guidelines appear to let you know where you're going, and there's an effectively annoying beeping sound, which is standard. The front obstacle detection sensor, as mentioned earlier in the review, also comes in handy, especially in a car this size!
FAMILY LIFESTAGE In Diapers: Not my first car choice, but it's do-able. In School: Sure, it would look good in the carpool lane. Teens: Yes, if your kids want to drive around a big, safe car that's more mature than they are.
See also:
Trunk release
To open the trunk from inside the vehicle: Press the trunk release button located in the glove box. To open the trunk with the outside release button: 1. Unlock the trunk with the transmi ...
Disengaging speed control
Press the brake pedal to disengage the speed control. Disengaging the speed control will not erase the previous set speed. ...
Automatic steering into parking space
Automatic steering is activated when you stop the vehicle, remove your hands from the steering wheel and select the R (Reverse) gear. Be sure the steering wheel motion is not obstructed by any obj ...