Lincoln MKT in the Market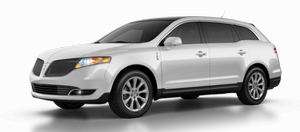 Sometimes the luster fades off an all-new model when you revisit it a year later. Newer designs come along to woo you, and often the love you once felt for it just doesn't seem as alluring. And sometimes it does.
I'm glad the MKT returned to my clutches for 2011, because I still love this ungainly looking crossover. I also, however, am a realist who understands that the world doesn't always share my tastes.
See also:
Traction control system (TCS)
Traction control is a driver aid feature that helps your vehicle maintain traction of the wheels, typically when driving on slippery and/or hilly road surfaces, by detecting and controlling wheel ...
Memory seats/power mirrors/steering column
This system allows automatic positioning of the driver seat, power mirrors, and steering column to two programmable positions. The memory seat control is located on the driver door. • To ...
Anti-scan feature
If the wrong code has been entered seven times (35 consecutive button presses), the keypad will go into an anti-scan mode. This mode disables the keypad for one minute and the keypad lamp will fla ...