Improved performance without sacrificing fuel economy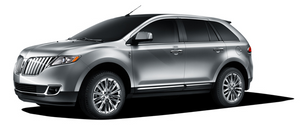 Power for the 2011 Lincoln MKX is supplied by the 3.7-liter Duratec V-6, which employs advanced technology and clever control strategies, such as Twin Independent Variable Camshaft Timing (Ti-VCT) to increase horsepower and torque without compromising fuel economy.
Customers of the 2011 Lincoln MKX will enjoy a luxury crossover that has best-in-class power and torque versus all V-6 competitors with unsurpassed highway fuel economy of 25 mpg - all on regular fuel. Horsepower has been increased to 305 - a 15-percent increase compared with the outgoing product - while torque is up to 280 ft.-lbs., marking a 12-percent improvement.
The 3.7-liter Ti-VCT V-6 is mated to a six-speed SelectShift Automatic™ transmission, which gives customers the option of a fun-to-shift manual experience.
In SelectShift mode, the transmission doesn't second-guess the driver, giving him or her control over gear selection and performance feel. Upshifts, for instance, are not commanded at redline, and downshifts are allowed at the lowest gear possible as defined by the engine speed.
For instance, when a lower gear is selected while descending a long downhill grade, the 2011 Lincoln MKX in SelectShift mode will hold that gear until the driver manually upshifts or returns to the fully automatic setting. To help ensure safe shifting, the transmission will downshift to the lowest acceptable gear, based on a calculated maximum speed. That means if a vehicle is traveling at highway speeds, the driver cannot downshift to first gear in SelectShift mode.
Improvements to engine hardware and powertrain control strategies account for the gains in power and fuel economy. Other strategies in addition to Ti-VCT are aggressive deceleration fuel shutoff; torque-based deceleration control and battery management through "smart charging."
See also:
Trailer towing
Trailer towing with your vehicle may require the use of a trailer tow option package. Trailer towing puts additional loads on your vehicle's engine, transmission, axle, brakes, tires and suspen ...
Treadwear
The treadwear grade is a comparative rating based on the wear rate of the tire when tested under controlled conditions on a specified government test course. For example, a tire graded 150 would w ...
Snow tires and chains
WARNING: Snow tires must be the same size, load index, speed rating as those originally provided by Ford. Use of any tire or wheel not recommended by Ford can affect the safety and performance o ...