Securicode™ keyless entry system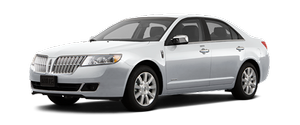 The keypad, located near the driver's window, is invisible until touched and then it lights up so you can see and touch the appropriate buttons.
Note: If you enter your entry code too fast on the keypad, the unlock function may not work. Re-enter your entry code more slowly.
You can use the keyless entry keypad to:

• lock or unlock the doors without using a key.
• open the trunk.
• recall memory seat/power mirrors and steering column positions (if equipped).
• enable or disable the autolock and autounlock features
• Activate intelligent access (if equipped) at the driver door, refer to Intelligent access in this chapter.
The keypad can be operated with the factory set 5–digit entry code; this code is located on the owner's wallet card in the glove box and is available from your authorized dealer. You can also create up to three of your own 5–digit personal entry codes.
Note: If your vehicle is equipped with the intelligent access feature, your keypad will still function normally if you enter your personal entry code or factory set code. However, if your transmitter is within range of the driver's door, an intelligent access unlock will also occur each time you press any number on the keypad. Note that this additional unlock will not impact keypad functionality, and you can still enter your code and perform all keypad functions (unlock, lock, trunk release).
See also:
Engine
Engines are more efficient when they are clean because grease and dirt buildup keep the engine warmer than normal. When washing: • Take care when using a power washer to clean the engine. The h ...
All-wheel drive (awd) system (if equipped)
Your vehicle may be equipped with a full-time all-wheel drive (AWD) system. The AWD system is an active system, meaning it not only responds to wheel slip between the front and rear axles but also ...
Overriding adaptive cruise control
WARNING: Whenever the driver is overriding the ACC by pressing the accelerator pedal, the ACC will not automatically apply the brakes to maintain separation from any vehicle ahead. The set speed ...