Securicode™ keyless entry system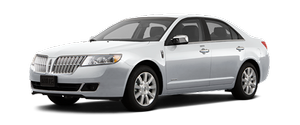 The keypad, located near the driver's window, is invisible until touched and then it lights up so you can see and touch the appropriate buttons.
Note: If you enter your entry code too fast on the keypad, the unlock function may not work. Re-enter your entry code more slowly.
You can use the keyless entry keypad to:

• lock or unlock the doors without using a key.
• open the trunk.
• recall memory seat/power mirrors and steering column positions (if equipped).
• enable or disable the autolock and autounlock features
• Activate intelligent access (if equipped) at the driver door, refer to Intelligent access in this chapter.
The keypad can be operated with the factory set 5–digit entry code; this code is located on the owner's wallet card in the glove box and is available from your authorized dealer. You can also create up to three of your own 5–digit personal entry codes.
Note: If your vehicle is equipped with the intelligent access feature, your keypad will still function normally if you enter your personal entry code or factory set code. However, if your transmitter is within range of the driver's door, an intelligent access unlock will also occur each time you press any number on the keypad. Note that this additional unlock will not impact keypad functionality, and you can still enter your code and perform all keypad functions (unlock, lock, trunk release).
See also:
On-board diagnostics (OBD-II)
Your vehicle is equipped with a computer that monitors the engine's emission control system. This system is commonly known as the on-board diagnostics system (OBD-II). The OBD-II system protects t ...
Fuses
If electrical components in the vehicle are not working, a fuse may have blown. Blown fuses are identified by a broken wire within the fuse. Check the appropriate fuses before replacing any ...
Clear MyKey
To reset all MyKeys as admin keys, do the following: 1. Turn the vehicle on using the admin key. 2. Press SETUP until PRESS RESET TO CLEAR MYKEY is displayed. 3. Press and release the RESET but ...