Filling the tank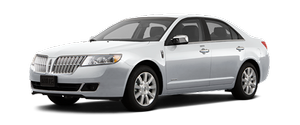 The advertised fuel capacity of the fuel tank on your vehicle is equal to the rated refill capacity of the fuel tank as listed in the Maintenance product specifications and capacities section of this chapter.
The advertised capacity is the amount of the indicated capacity and the empty reserve combined. Indicated capacity is the difference in the amount of fuel in a full tank and a tank when the fuel gauge indicates empty. Empty reserve is the small amount of fuel remaining in the fuel tank after the fuel gauge indicates empty.
The amount of usable fuel in the empty reserve varies and should not be relied upon to increase driving range. When refueling your vehicle after the fuel gauge indicates empty, you might not be able to refuel the full amount of the advertised capacity of the fuel tank due to the empty reserve still present in the tank.
For consistent results when filling the fuel tank:
Х Turn the engine/ignition switch to the off position prior to refueling, an error in the reading will result if the engine is left running.
Х Use the same filling rate setting (low Ч medium Ч high) each time the tank is filled.
Х Allow no more than two automatic click-offs when filling.
Х Always use fuel with the recommended octane rating.
Х Use a known quality gasoline, preferably a national brand.
Х Have the vehicle loading and distribution the same every time.
Your results will be most accurate if your filling method is consistent.
See also:
Ignition modes
1. Off Ч This position shuts the engine and all electrical accessories off. Press and release the START/STOP button without applying the brake pedal when your vehicle is in on mode or when the en ...
Illuminated exit
When all vehicle doors are closed and the ignition is turned off, the interior dome lamps, parking lamps and puddle lamps (if equipped) will illuminate. The lights will turn off if all the door ...
Event Data Recording
This vehicle is equipped with an event data recorder (EDR). The main purpose of an EDR is to record, in certain crash or near crash-like situations, such as an airbag deployment or hitting a roa ...