More capable braking system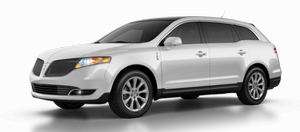 To match the engine's extra power and the suspension's additional handling capabilities, Lincoln has significantly upgraded the MKT braking system for 2013. The new vented front discs measure 13.86 inches (352 millimeters), more than an inch larger than 2012. To enhance brake cooling, the "hat" portion of the front brake disc is also vented, a unique design developed by Ford Motor Company.
Additionally, the diameter of the rear discs increased 0.58 of an inch to 13.58 inches and the discs are now vented. Brake pad area and total swept area increased significantly, with each improvement working together to improve braking performance, reduce brake fade under heavy use and provide the driver with a more direct and linear braking feel.
See also:
Detection issues
The radar sensor has a limited field of vision. In some situations it may not detect vehicles at all or detect a vehicle later than expected. Detection issues can occur: • When driving on a di ...
Motorcraft part numbers
1For spark plug replacement, see your authorized dealer. Refer to scheduled maintenance information for the appropriate intervals for changing the spark plugs. Replace the spark plugs with ones ...
Power steering fluid (except ecoboost engine)
Refer to scheduled maintenance information. 1. Start the engine and let it run until it reaches normal operating temperature (the engine coolant temperature gauge indicator will be near the ...