Opening the power liftgate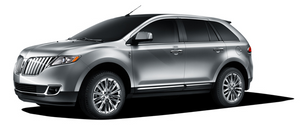 Press

twice within three seconds to fully unlatch and open the liftgate.
WARNING: Make sure all persons are clear of the liftgate area before using power liftgate control.
In order to fully lower and latch the liftgate, press the control twice.
If the liftgate stops mid-travel, it may have detected an obstacle. Check to ensure the liftgate swing zone is free from obstruction and reset the power assist by manually closing the liftgate. Normal operation can then be resumed. Liftgate open/close can be reversed by pressing

twice within three seconds.
WARNING: Make sure the liftgate is closed to prevent exhaust fumes from being drawn into the vehicle. This will also prevent passengers and cargo from falling out. If you must drive with the liftgate open, keep the vents open so outside air comes into the vehicle.