Unlocking and locking the doors using keyless entry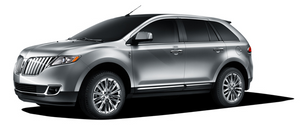 To unlock the driver's door, enter the factory set 5-digit code or your personal code. Each number must be pressed within five seconds of each other. The interior lamps will illuminate. Note: If the two-stage unlocking feature is disabled, all doors will unlock; for more information regarding two-stage unlocking, refer to the Unlocking the doors/Two stage unlock section earlier in this chapter.
To unlock all doors, enter the factory set code or your personal code, then press the 3 • 4 control within five seconds.
To lock all doors, press and hold the 7 • 8 and the 9 • 0 at the same time (with the driver's door closed). You do not need to enter the keypad code first.
To enable/disable autolock/autounlock, refer to Autolock feature or Autounlock feature earlier in this chapter.
See also:
Detection issues
The radar sensor has a limited field of vision. In some situations it may not detect vehicles at all or detect a vehicle later than expected. Detection issues can occur: • When driving on a di ...
Trailer tow connector (vehicles equipped with a Class II trailertow/prep package)
The trailer tow connector is located under the rear bumper, on the driver's side of the vehicle. Refer to the following chart for information regarding the factory-equipped trailer tow connecto ...
Important safety precautions
WARNING: Do not overfill the fuel tank. The pressure in an overfilled tank may cause leakage and lead to fuel spray and fire. WARNING: The fuel system may be under pressure. If you hear a hissing ...