Electronic stability control (ESC)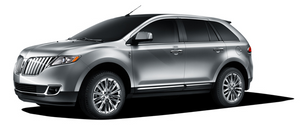 Electronic stability control (ESC) may enhance your vehicle's directional stability during adverse maneuvers, for example when cornering severely or avoiding objects in the roadway. ESC operates by applying brakes to one or more of the wheels individually and, if necessary, reducing engine power if the system detects that the vehicle is about to skid or slide laterally.
During ESC events the stability control light in the instrument cluster will flash.
Certain adverse driving maneuvers may activate the ESC system, which include but are not limited to:
• Taking a turn too fast
• Maneuvering quickly to avoid an accident, pedestrian or obstacle
• Driving over a patch of ice or other slippery surfaces
• Changing lanes on a snow-rutted road
• Entering a snow-free road from a snow-covered side street, or vice versa
• Entering a paved road from a gravel road, or vice versa
• Cornering while towing a heavily loaded trailer (refer to Trailer towing in the Tires, Wheels and Loading chapter).
The electronic stability control system may be deactivated in certain situations. See the Switching off AdvanceTrac with RSC section following.
See also:
Interior mirror
The interior rearview mirror has two pivot points on the support arm which lets you adjust the mirror up or down and from side to side. WARNING: Do not adjust the mirror while the vehicle is in m ...
The importance of shoulder belts
Using a booster without a shoulder belt increases the risk of a child's head hitting a hard surface in a collision. For this reason, you should never use a booster seat with a lap belt only. It is ...
Guarding against exhaust fumes
WARNING: If you smell exhaust fumes inside your vehicle, have your dealer inspect your vehicle immediately. Do not drive if you smell exhaust fumes. Carbon monoxide is present in exhaust fumes. ...