Brake-shift interlock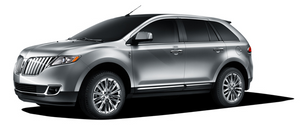 This vehicle is equipped with a brake-shift interlock (BSI) feature that prevents the gearshift lever from being moved from P (Park) when the ignition is in the on position unless the brake pedal is pressed.
If you cannot move the gearshift lever out of P (Park) with ignition in the on position and the brake pedal pressed, it is possible that a fuse has blown or the vehicle's brake lamps are not operating properly. Refer to Fuses and relays in the Roadside Emergencies chapter.
If the fuse is not blown and the brake lamps are working properly, the following procedure will allow you to move the gearshift lever from P (Park):
1. Apply the parking brake, turn the ignition key to the off position, and remove the key.
2. Using a screwdriver (or similar tool), carefully pry off and remove the BSI access panel.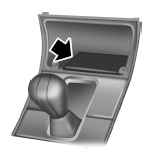 3. Locate the brake shift interlock lever in front of the shifter assembly.
4. Apply the brake pedal. Gently pull and hold the brake shift interlock lever while pulling the gearshift lever out of the P (Park) position and into the N (Neutral) position.
5. Install the trim panel.
6. Apply the brake pedal, start the vehicle, and release the parking brake.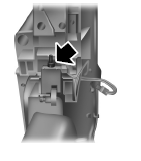 See your authorized dealer as soon as possible if this procedure is used.
WARNING: Do not drive your vehicle until you verify that the brakelamps are working.
WARNING: When doing this procedure, you will be taking the vehicle out of park which means the vehicle can roll freely. To avoid unwanted vehicle movement, always fully set the parking brake prior to doing this procedure. Use wheel chocks if appropriate.
WARNING: If the parking brake is fully released, but the brake warning lamp remains illuminated, the brakes may not be working properly. See your authorized dealer.
See also:
Child restraint and safety belt maintenance
Inspect the vehicle safety belts and child safety seat systems periodically to make sure they work properly and are not damaged. Inspect the vehicle and child seat safety belts to make sure there ...
Why maintain your vehicle?
This guide describes the scheduled maintenance required for your vehicle. Carefully following this schedule helps protect against major repair expenses resulting from neglect or inadequate mainten ...
If Your Vehicle Gets Stuck in Mud or Snow
Note: Do not rock the vehicle if the engine is not at normal operating temperature or damage to the transmission may occur. Note: Do not rock the vehicle for more than a minute or damage to the t ...