Important safety precautions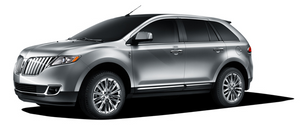 WARNING: Do not overfill the fuel tank. The pressure in an overfilled tank may cause leakage and lead to fuel spray and fire.
WARNING: The fuel system may be under pressure. If you hear a hissing sound near the fuel filler door, do not refuel until the sound stops. Otherwise, fuel may spray out, which could cause serious personal injury.
WARNING: Automotive fuels can cause serious injury or death if misused or mishandled.
WARNING: Gasoline may contain benzene, which is a cancer-causing agent.
Observe the following guidelines when handling automotive fuel:
• Extinguish all smoking materials and any open flames before refueling your vehicle.
• Always turn off the vehicle before refueling.

• Automotive fuels can be harmful or fatal if swallowed. Fuel such as gasoline is highly toxic and if swallowed can cause death or permanent injury. If fuel is swallowed, call a physician immediately, even if no symptoms are immediately apparent. The toxic effects of fuel may not be visible for hours.
• Avoid inhaling fuel vapors. Inhaling too much fuel vapor of any kind can lead to eye and respiratory tract irritation. In severe cases, excessive or prolonged breathing of fuel vapor can cause serious illness and permanent injury.
• Avoid getting fuel liquid in your eyes. If fuel is splashed in the eyes, remove contact lenses (if worn), flush with water for 15 minutes and seek medical attention. Failure to seek proper medical attention could lead to permanent injury.
• Fuels can also be harmful if absorbed through the skin. If fuel is splashed on the skin and/or clothing, promptly remove contaminated clothing and wash skin thoroughly with soap and water. Repeated or prolonged skin contact with fuel liquid or vapor causes skin irritation.
• Be particularly careful if you are taking "Antabuse" or other forms of disulfiram for the treatment of alcoholism. Breathing gasoline vapors, or skin contact could cause an adverse reaction. In sensitive individuals, serious personal injury or sickness may result. If fuel is splashed on the skin, promptly wash skin thoroughly with soap and water. Consult a physician immediately if you experience an adverse reaction.
WARNING: When refueling always shut the engine off and never allow sparks or open flames near the filler neck. Never smoke while refueling. Fuel vapor is extremely hazardous under certain conditions. Care should be taken to avoid inhaling excess fumes.
WARNING: The flow of fuel through a fuel pump nozzle can produce static electricity, which can cause a fire if fuel is pumped into an ungrounded fuel container.
Refueling
WARNING: Fuel vapor burns violently and a fuel fire can cause severe injuries. To help avoid injuries to you and others:
• Read and follow all the instructions on the pump island;
• Turn off your engine when you are refueling;
• Do not smoke if you are near fuel or refueling your vehicle;
• Keep sparks, flames and smoking materials away from fuel;
• Stay outside your vehicle and do not leave the fuel pump unattended when refueling your vehicle — this is against the law in some places;
• Keep children away from the fuel pump; never let children pump fuel.
• Do not use personal electronic devices while refueling. It can ignite fuel vapors.
Use the following guidelines to avoid electrostatic charge build-up when filling an ungrounded fuel container:
• Place approved fuel container on the ground.
• DO NOT fill a fuel container while it is in the vehicle (including the cargo area).
• Keep the fuel pump nozzle in contact with the fuel container while filling.
• DO NOT use a device that would hold the fuel pump handle in the fill position.
See also:
Panel dimmer control
Panel dimmer control Use to adjust the brightness of the instrument panel and all applicable lit components in the vehicle during headlamp and parking lamp operation. • Tap the top or bott ...
Belt-Minder
The Belt-Minder feature is a supplemental warning to the safety belt warning function. This feature provides additional reminders by intermittently sounding a chime and illuminating the safety bel ...
Important ventilating information
If the engine is idling while the vehicle is stopped for a long period of time, open the windows at least 1 inch (2.5 cm) or adjust the heating or air conditioning to bring in fresh air. ...