Motorcraft part numbers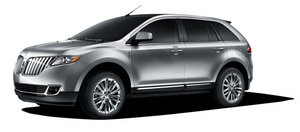 Refer to scheduled maintenance information for the appropriate intervals for changing the spark plugs.
Note: Replace the spark plugs with ones that meet Ford material and design specifications for your vehicle, such as Motorcraft or equivalent replacement parts. The customer warranty may be void for any damage to the engine if such spark plugs are not used.
See also:
Choosing the right fuel
Use only UNLEADED fuel or UNLEADED fuel blended with a maximum of 10% ethanol. Do not use fuel ethanol (E85), diesel, methanol, leaded fuel or any other fuel. The use of leaded fuel is prohibited ...
Mylincoln touch
Drivers particularly benefit from the latest upgrade of MyLincoln Touch hardware that equips the new MKT with Lincoln's most advanced HMI or Human-Machine Interface. The all-new instrumentation fe ...
How fail-safe cooling works
If the engine begins to overheat: • The engine coolant temperature gauge will move to the H (hot) area. • The symbol will illuminate. If the engine reaches a preset over-temperature condition, the ...