Multi-point inspection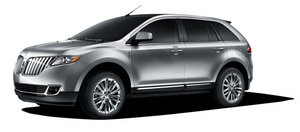 In order to keep your vehicle running right, it is important to have the systems on your vehicle checked regularly. This can help identify potential issues and prevent major problems. Ford Motor Company recommends the following multi-point inspection be performed at every scheduled maintenance interval to help ensure your vehicle keeps running great.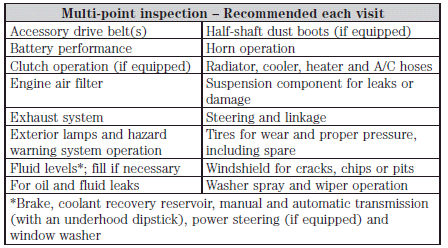 Be sure to ask your dealership service advisor or technician about the multi-point vehicle inspection. It's a comprehensive way to perform a thorough inspection of your vehicle. It's your checklist that gives you immediate feedback on the overall condition of your vehicle. You'll know what's been checked, what's okay, as well as those things that may require future or immediate attention. The multi-point vehicle inspection is one more way to keep your vehicle running great!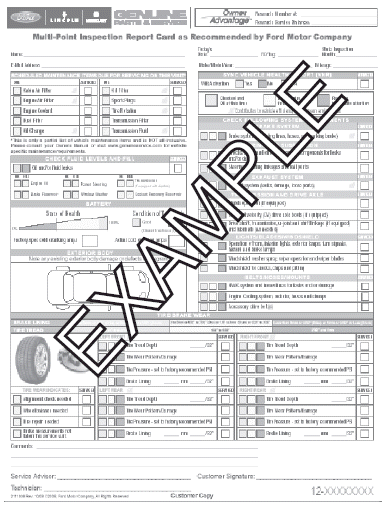 See also:
Tire rotation
Rotating your tires at the recommended interval (as indicated in the Scheduled Maintenance chapter) will help your tires wear more evenly, providing better tire performance and longer tire life. ...
When Your Temporary Spare Tire Is Installed
When one of your road tires needs to be replaced with the temporary spare, the TPMS will continue to identify an issue to remind you that the damaged road wheel/tire needs to be repaired and put b ...
Power steering fluid (except ecoboost engine)
Refer to scheduled maintenance information. 1. Start the engine and let it run until it reaches normal operating temperature (the engine coolant temperature gauge indicator will be near the ...