Ambient lighting (if equipped)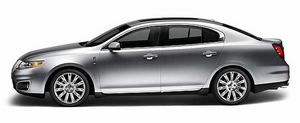 Illuminates footwells, storage bins, cupholders, door map pockets and release handles with a choice of several colors. The ambient lighting control is located on the instrument panel. To activate, press and release the control to cycle through the color choices plus the off state.

Press this switch to change intensity.
The lights come on whenever the ignition is in either the on or accessory position.
Welcome and farewell lighting are included in the Lincoln white signature color. The transition from signature color to ambient occurs when the key is placed in the ignition and all doors are closed. Farewell lighting occurs when the key is removed from the ignition and the driver door is opened.
Note: The ambient color will stay on until the ignition is placed in the off position and either of the front doors are opened or the accessory delay timer expires. At that time, the ambient color changes to the signature color.
See also:
When You Believe Your System Is Not Operating Properly
The main function of the tire pressure monitoring system is to warn you when your tires need air. It can also warn you in the event the system is no longer capable of functioning as intended. Plea ...
Activating the memory feature
To activate this feature: 1. Position the seat and mirrors to the desired positions. 2. Press and hold either the 1 or 2 control on the driver's door for five seconds. (A tone will be heard af ...
Vehicle sensitive mode
This is the normal retractor mode, which allows free shoulder belt length adjustment to your movements and locking in response to vehicle movement. For example, if the driver brakes suddenly or tu ...