Ambient lighting (if equipped)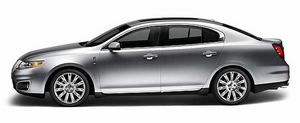 Illuminates footwells, storage bins, cupholders, door map pockets and release handles with a choice of several colors. The ambient lighting control is located on the instrument panel. To activate, press and release the control to cycle through the color choices plus the off state.

Press this switch to change intensity.
The lights come on whenever the ignition is in either the on or accessory position.
Welcome and farewell lighting are included in the Lincoln white signature color. The transition from signature color to ambient occurs when the key is placed in the ignition and all doors are closed. Farewell lighting occurs when the key is removed from the ignition and the driver door is opened.
Note: The ambient color will stay on until the ignition is placed in the off position and either of the front doors are opened or the accessory delay timer expires. At that time, the ambient color changes to the signature color.
See also:
Brake over accelerator
This vehicle is equipped with a brake over accelerator feature. In the event the accelerator pedal becomes stuck or entrapped, applying steady and firm pressure to the brake pedal will both slow t ...
Rolling code programming
Note: If you do not follow the time-sensitive instructions, the device will time out and you will have to repeat the complete procedure. Note: It may be helpful to have another person assist you ...
Lamp assembly condensation
Exterior lamps are vented to accommodate normal changes in pressure. Condensation can be a natural by-product of this design. When moist air enters the lamp assembly through the vents, there is a ...