Programming MyKey Optional Settings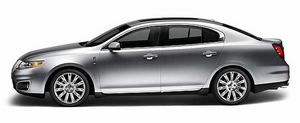 Turn the ignition on using an admin key. To program the optional settings, use the message center buttons to do the following:
1. Press SETUP until RESET FOR MYKEY SETTINGS is displayed.
2. Press and release the RESET button to display MyKey setup menus.
The first menu shown is:
MYKEY MAX MPH <80 MPH> OFF
3. If you don't want to change the maximum speed setting, press the SETUP button to display the next menu. The remaining menus appear as follows with the default settings shown:
MYKEY MPH TONES 45 55 65 <OFF>
MYKEY VOLUME LIMIT <ON> OFF
MYKEY ADVTRAC CTRL ON <OFF>.
4. On any of the menus press RESET to highlight your choice with the <…>.
5. Press SETUP to enter your choice. The next optional setting will be displayed.
6. Repeat Steps 4 and 5 until you are done changing the optional settings.
See also:
Vehicle Overview
Lincoln has redesigned its full-size sport utility vehicle for 2003, moving it away from its pickup-truck origins and turning it into a purpose-built SUV. Chassis changes promise a different sort ...
Intelligent Oil Life Monitor™
Your vehicle is equipped with an Intelligent Oil Life Monitor™ that determines when the engine oil should be changed based on how your vehicles is used. By using several important factors in its c ...
Performance
The MKX's best performance attributes are those that its rival, the Lexus, takes for granted. This Lincoln glides softly on the road, with little wind and road noise. Even the optional 20-inch w ...