Programming MyKey Optional Settings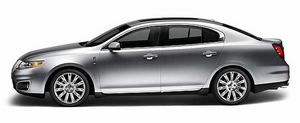 Turn the ignition on using an admin key. To program the optional settings, use the message center buttons to do the following:
1. Press SETUP until RESET FOR MYKEY SETTINGS is displayed.
2. Press and release the RESET button to display MyKey setup menus.
The first menu shown is:
MYKEY MAX MPH <80 MPH> OFF
3. If you donТt want to change the maximum speed setting, press the SETUP button to display the next menu. The remaining menus appear as follows with the default settings shown:
MYKEY MPH TONES 45 55 65 <OFF>
MYKEY VOLUME LIMIT <ON> OFF
MYKEY ADVTRAC CTRL ON <OFF>.
4. On any of the menus press RESET to highlight your choice with the <Е>.
5. Press SETUP to enter your choice. The next optional setting will be displayed.
6. Repeat Steps 4 and 5 until you are done changing the optional settings.
See also:
Understanding your tire pressure monitoring system (TPMS)
The tire pressure monitoring system measures pressure in your four road tires and sends the tire pressure readings to your vehicle. The low tire pressure warning light will turn on if the tire pre ...
Tire wear
When the tread is worn down to 1/16th of an inch (2 mm), tires must be replaced to help prevent your vehicle from skidding and hydroplaning. Built-in treadwear indicators, or Уwear barsФ, ...
Tire pressure monitoring system (tpms)
WARNING: The tire pressure monitoring system is NOT a substitute for manually checking tire pressure. The tire pressure should be checked periodically (at least monthly) using a tire gauge, see ...