Activating the memory feature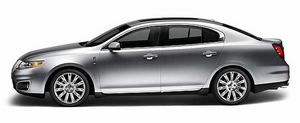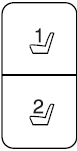 To activate this feature:
1. Position the seat and mirrors to the desired positions.
2. Press and hold either the 1 or 2 control on the driver's door for five seconds. (A tone will be heard after 11⁄2 seconds when the memory store is done) continue to hold until a second tone is heard after five seconds.
3. Within three seconds press the

on the transmitter.
4. A tone will be heard when the activation is complete.
5. Repeat this procedure for another transmitter if desired.
See also:
Automatic locking mode
In this mode, the shoulder belt is automatically pre-locked. The belt will still retract to remove any slack in the shoulder belt. The automatic locking mode is not available on the driver safety ...
Roll Stability Control™ (RSC )
Roll Stability Control™ (RSC ) may help to maintain roll stability of the vehicle during adverse maneuvers. RSC operates by detecting the vehicle's roll motion and the rate at which it changes and ...
Vehicle loading – with and without a trailer
This section will guide you in the proper loading of your vehicle and/or trailer, to keep your loaded vehicle weight within its design rating capability, with or without a trailer. Properly loadin ...