Replacing the battery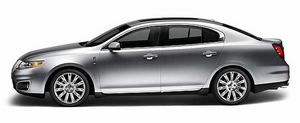 The integrated keyhead transmitter uses one coin type three-volt lithium battery CR2032 or equivalent.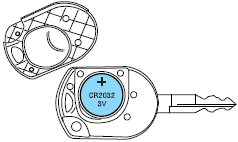 To replace the battery:
1. Twist a thin coin in the slot of the IKT near the key ring in order to remove the battery cover.
Note: Do not wipe off any grease on the battery terminals on the back surface of the circuit board.
2. Remove the old battery.
Note: Please refer to local regulations when disposing of transmitter batteries.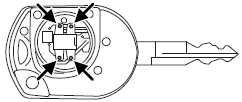 3. Insert the new battery. Refer to the instructions inside the IKT for the correct orientation of the battery. Press the battery down to ensure that the battery is fully seated in the battery housing cavity.
4. Snap the battery cover back onto the key.
Note: Replacement of the battery will not cause the IKT to become deprogrammed from your vehicle. The IKT should operate normally after battery replacement.
See also:
Jump starting
WARNING: The gases around the battery can explode if exposed to flames, sparks, or lit cigarettes. An explosion could result in injury or vehicle damage. WARNING: Batteries contain sulfuric acid ...
Armrest pass-through
Pull down the door located in back of the armrest in order to store cargo of a longer length such as skis or lumber. Note: Do not exceed 80 lb (36 kg) of weight on the pass-through door. ...
High beams
Pull the lever fully past the detent to activate. Pull the lever fully again to deactivate. ...