Safety Practices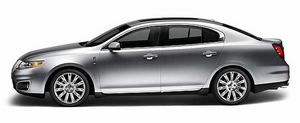 WARNING: If your vehicle is stuck in snow, mud, sand, etc., do not rapidly spin the tires; spinning the tires can tear the tire and cause an explosion. A tire can explode in as little as three to five seconds.
WARNING: Do not spin the wheels at over 35 mph (56 km/h).
The tires may fail and injure a passenger or bystander.
Driving habits have a great deal to do with your tire mileage and safety.
• Observe posted speed limits
• Avoid fast starts, stops and turns
• Avoid potholes and objects on the road
• Do not run over curbs or hit the tire against a curb when parking
See also:
Trailer towing
WARNING: Never tow a trailer with this vehicle. Your vehicle is not equipped to tow. No towing packages are available through an authorized dealer. ...
Export unique (Non–United States/Canada) vehiclespecific information
For your particular global region, your vehicle may be equipped with features and options that are different from the features and options that are described in this Owner's Guide. A market unique ...
Perchlorate material
Certain components of this vehicle such as airbag modules, safety belt pretensioners, and button cell batteries may contain Perchlorate Material – Special handling may apply for service or vehicle ...