Changing the air filter element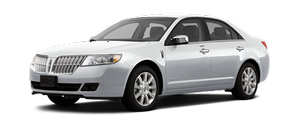 3.7L V6 engine
3.5L V6 EcoBoost engine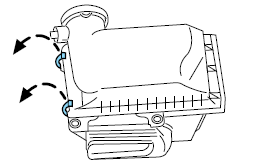 1. Release the clamps that secure the air filter housing cover.
2. Carefully separate the two halves of the air filter housing.
3. Remove the air filter element from the air filter housing.
4. Wipe the air filter housing and cover clean to remove any dirt or debris and to ensure good sealing.
5. Install a new air filter element. Be careful not to crimp the filter element edges between the air filter housing and cover. This could cause filter damage and allow unfiltered air to enter the engine if not properly seated.
6. Replace the air filter housing cover and secure the clamps. Be sure that the air cleaner cover tabs are engaged into the slots of the air cleaner housing.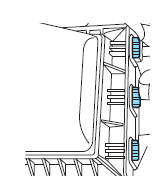 Note: Failure to use the correct air filter element may result in severe engine damage. The customer warranty may be void for any damage to the engine if the correct air filter element is not used.
See also:
Automatic transmission adaptive learning
Your transmission is equipped with an adaptive learning strategy found in the vehicle computer. This feature is designed to increase durability and provide consistent shift feel over the life of t ...
Under the Hood
Lincoln's 5.4-liter V-8 engine develops 300 horsepower and 355 pounds-feet of torque, and it mates with a four-speed-automatic transmission. The Navigator is rated as an Ultra Low Emissions Vehicl ...
Attaching child safety seats with tether straps
Many forward-facing child safety seats include a tether strap which extends from the back of the child safety seat and hooks to an anchoring point called the top tether anchor. Tether straps are a ...