Starting your vehicle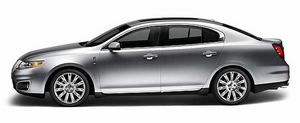 This system meets all Canadian interference-causing equipment standard requirements regulating the impulse electrical field strength of radio noise.
Don't press the accelerator before or during starting. Only use the accelerator when you have difficulty starting the engine. For more information on starting the vehicle, refer to Starting the engine in this chapter.
To avoid potential transmission damage at extremely cold temperatures (below -20°F [-30°C]), it is recommended that the vehicle be warmed up to normal operating temperature before driving at highway speeds above 50 mph (80 km/h). Normal operating temperature is normally reached after 10 minutes of moderate driving or idling.
WARNING: Extended idling at high engine speeds can produce very high temperatures in the engine and exhaust system, creating the risk of fire or other damage.
WARNING: Do not park, idle, or drive your vehicle in dry grass or other dry ground cover. The emission system heats up the engine compartment and exhaust system, which can start a fire.
WARNING: Do not start your vehicle in a closed garage or in other enclosed areas. Exhaust fumes can be toxic. Always open the garage door before you start the engine. See Guarding against exhaust fumes in this chapter for more instructions.
WARNING: If you smell exhaust fumes inside your vehicle, have your dealer inspect your vehicle immediately. Do not drive if you smell exhaust fumes.
See also:
Speed control
With speed control set, you can maintain a set speed without keeping your foot on the accelerator pedal. WARNING: Do not use the speed control in heavy traffic or on roads that are winding, slipp ...
Rear window defroster
The rear defroster control is located on the climate control panel and works to clear the rear window of fog and thin ice. The engine must be running to operate the rear window defroster. Press ...
If your vehicle gets stuck
If your vehicle gets stuck in mud or snow it may be rocked out by shifting between forward and reverse gears, stopping between shifts, in a steady pattern. Press lightly on the accelerator in each ...