Starting your vehicle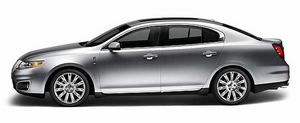 This system meets all Canadian interference-causing equipment standard requirements regulating the impulse electrical field strength of radio noise.
DonТt press the accelerator before or during starting. Only use the accelerator when you have difficulty starting the engine. For more information on starting the vehicle, refer to Starting the engine in this chapter.
To avoid potential transmission damage at extremely cold temperatures (below -20∞F [-30∞C]), it is recommended that the vehicle be warmed up to normal operating temperature before driving at highway speeds above 50 mph (80 km/h). Normal operating temperature is normally reached after 10 minutes of moderate driving or idling.
WARNING: Extended idling at high engine speeds can produce very high temperatures in the engine and exhaust system, creating the risk of fire or other damage.
WARNING: Do not park, idle, or drive your vehicle in dry grass or other dry ground cover. The emission system heats up the engine compartment and exhaust system, which can start a fire.
WARNING: Do not start your vehicle in a closed garage or in other enclosed areas. Exhaust fumes can be toxic. Always open the garage door before you start the engine. See Guarding against exhaust fumes in this chapter for more instructions.
WARNING: If you smell exhaust fumes inside your vehicle, have your dealer inspect your vehicle immediately. Do not drive if you smell exhaust fumes.
See also:
Tire rotation
Rotating your tires at the recommended interval (as indicated in the Scheduled Maintenance chapter) will help your tires wear more evenly, providing better tire performance and longer tire life. ...
Important child restraint precautions
WARNING: Always make sure your child is secured properly in a device that is appropriate for their height, age and weight. Child safety restraints must be purchased separately from the vehicle. ...
Erasing personal code
1. Enter the factory set 5Цdigit code. 2. Within five seconds, press the 1 Х 2 on the keypad and release. 3. Press and hold the 1 Х 2 for two seconds. This must be done within five seconds of c ...