Starting your vehicle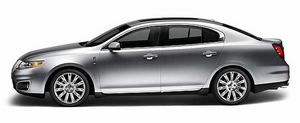 This system meets all Canadian interference-causing equipment standard requirements regulating the impulse electrical field strength of radio noise.
Don't press the accelerator before or during starting. Only use the accelerator when you have difficulty starting the engine. For more information on starting the vehicle, refer to Starting the engine in this chapter.
To avoid potential transmission damage at extremely cold temperatures (below -20°F [-30°C]), it is recommended that the vehicle be warmed up to normal operating temperature before driving at highway speeds above 50 mph (80 km/h). Normal operating temperature is normally reached after 10 minutes of moderate driving or idling.
WARNING: Extended idling at high engine speeds can produce very high temperatures in the engine and exhaust system, creating the risk of fire or other damage.
WARNING: Do not park, idle, or drive your vehicle in dry grass or other dry ground cover. The emission system heats up the engine compartment and exhaust system, which can start a fire.
WARNING: Do not start your vehicle in a closed garage or in other enclosed areas. Exhaust fumes can be toxic. Always open the garage door before you start the engine. See Guarding against exhaust fumes in this chapter for more instructions.
WARNING: If you smell exhaust fumes inside your vehicle, have your dealer inspect your vehicle immediately. Do not drive if you smell exhaust fumes.
See also:
Ride & Handling
The optional Sport Appearance Package includes 18-inch aluminum wheels and a sport suspension, and the result is a notably firm ride — think all-wheel-drive Acura TL suspension tuning, not Lexus E ...
Lamp assembly condensation
Exterior lamps are vented to accommodate normal changes in pressure. Condensation can be a natural by-product of this design. When moist air enters the lamp assembly through the vents, there is a ...
Turning off speed control
To turn off the speed control, press OFF or turn off the ignition. Note: When you turn off the speed control or the ignition, your speed control set speed memory is erased. ...