Trailer towing tips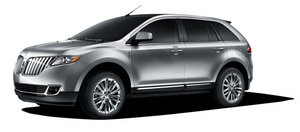 • Practice turning, stopping and backing-up before starting on a trip to get the feel of the vehicle-trailer combination. When turning, make wider turns so the trailer wheels will clear curbs and other obstacles.
• To aid in engine/transmission cooling and A/C efficiency during hot weather while stopped in traffic, place the gearshift lever in P (Park).
• After you have traveled 50 miles (80 km), thoroughly check your hitch, electrical connections and trailer wheel lug nuts.
• If you are driving down a long or steep hill, shift to a lower gear. Do not apply the brakes continuously, as they may overheat and become less effective.
• Vehicles with trailers should not be parked on a grade. If you must park on a grade, place wheel chocks under the trailer's wheels.
See also:
What you should know about fail-safe cooling
If the engine coolant supply is depleted, this feature allows the vehicle to be driven temporarily before incremental component damage is incurred. The "fail-safe" distance depends on ambient tem ...
Connecting the jumper cables
Note: In the illustration, the vehicle on the bottom is used to designate the assisting (boosting) battery. 1. Connect the positive (+) jumper cable to the positive (+) terminal of the discharg ...
Exceptions
There are several exceptions to the Normal Schedule. They are listed below: Normal vehicle axle maintenance: Rear axles and power take-off (PTO) units with synthetic fluid and light-duty trucks e ...