Driving with blind spot mirrors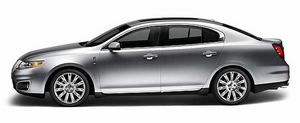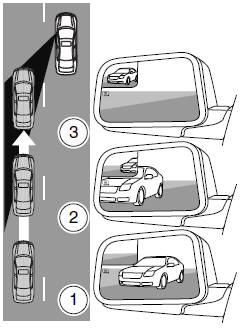 Before a lane change, check the main mirror first, then check the blind spot mirror. If no vehicles are present in the blind spot mirror and the traffic in the adjacent lane is at a safe distance, signal that you are going to change lanes. Glance over your shoulder to verify traffic is clear, and carefully change lanes.
When the approaching vehicle is at a distance, its image is small and near the inboard edge of the main mirror. As the vehicle approaches, the image becomes larger and begins to move outboard across the main mirror (1). As the vehicle approaches its image will transition from the main mirror and begin to appear in the blind spot mirror (2).
As the vehicle leaves the blind spot mirror it will transition to the driver's peripheral field of view (3).
WARNING: Objects in the blind spot mirror are closer than they appear.
See also:
Congratulations
Congratulations on acquiring your new Lincoln. Please take the time to get well acquainted with your vehicle by reading this handbook. The more you know and understand about your vehicle, the grea ...
Changing the air filter element
3.7L V6 engine 3.5L V6 EcoBoost engine 1. Release the clamps that secure the air filter housing cover. 2. Carefully separate the two halves of the air filter housing. 3. Remove the air filte ...
Checking the engine oil
Refer to the scheduled maintenance information for the appropriate intervals for checking the engine oil. 1. Make sure the vehicle is on level ground. 2. Turn the engine off and wait 15 minutes ...