Driving with blind spot mirrors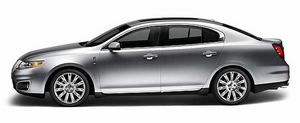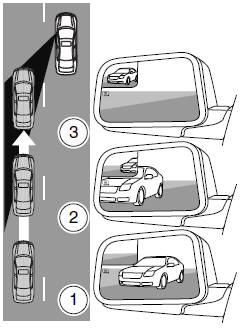 Before a lane change, check the main mirror first, then check the blind spot mirror. If no vehicles are present in the blind spot mirror and the traffic in the adjacent lane is at a safe distance, signal that you are going to change lanes. Glance over your shoulder to verify traffic is clear, and carefully change lanes.
When the approaching vehicle is at a distance, its image is small and near the inboard edge of the main mirror. As the vehicle approaches, the image becomes larger and begins to move outboard across the main mirror (1). As the vehicle approaches its image will transition from the main mirror and begin to appear in the blind spot mirror (2).
As the vehicle leaves the blind spot mirror it will transition to the driver's peripheral field of view (3).
WARNING: Objects in the blind spot mirror are closer than they appear.
See also:
EXTERIOR
The Lincoln MKZ has status. Redesigned for 2010, it's well-suited for the country club set. My kids thought it was fancy, which made them feel special and made me feel like a chauffeur. The tall, ...
Rear heated seats
WARNING: Persons who are unable to feel pain to the skin because of advanced age, chronic illness, diabetes, spinal cord injury, medication, alcohol use, exhaustion, or other physical conditions ...
Speed control
With speed control set, you can maintain a set speed without keeping your foot on the accelerator pedal. WARNING: Do not use the speed control in heavy traffic or on roads that are winding, slipp ...