Driving with blind spot mirrors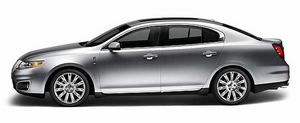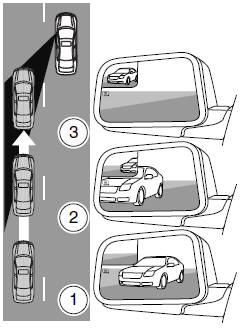 Before a lane change, check the main mirror first, then check the blind spot mirror. If no vehicles are present in the blind spot mirror and the traffic in the adjacent lane is at a safe distance, signal that you are going to change lanes. Glance over your shoulder to verify traffic is clear, and carefully change lanes.
When the approaching vehicle is at a distance, its image is small and near the inboard edge of the main mirror. As the vehicle approaches, the image becomes larger and begins to move outboard across the main mirror (1). As the vehicle approaches its image will transition from the main mirror and begin to appear in the blind spot mirror (2).
As the vehicle leaves the blind spot mirror it will transition to the driver's peripheral field of view (3).
WARNING: Objects in the blind spot mirror are closer than they appear.
See also:
Blocked sensor
If a message regarding a blocked sensor is displayed, the radar signals from the sensor, located behind a fascia cover near the driver side of the lower grille, have been obstructed. When th ...
Trunk release
To open the trunk from inside the vehicle: Press the trunk release button located in the glove box. To open the trunk with the outside release button: 1. Unlock the trunk with the transmi ...
Safety belt height adjustment
Your vehicle has safety belt height adjustments at the front outboard seating positions. Adjust the height of the shoulder belt so the belt rests across the middle of your shoulder. To adju ...