Driving with blind spot mirrors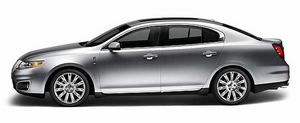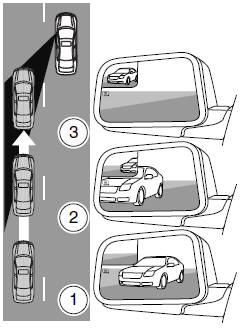 Before a lane change, check the main mirror first, then check the blind spot mirror. If no vehicles are present in the blind spot mirror and the traffic in the adjacent lane is at a safe distance, signal that you are going to change lanes. Glance over your shoulder to verify traffic is clear, and carefully change lanes.
When the approaching vehicle is at a distance, its image is small and near the inboard edge of the main mirror. As the vehicle approaches, the image becomes larger and begins to move outboard across the main mirror (1). As the vehicle approaches its image will transition from the main mirror and begin to appear in the blind spot mirror (2).
As the vehicle leaves the blind spot mirror it will transition to the driver's peripheral field of view (3).
WARNING: Objects in the blind spot mirror are closer than they appear.
See also:
Paddle shifters
The paddle shifters allow you to shift gears quickly, without taking your hands off the steering wheel. 1. To manually downshift the transmission with the gearshift lever in M (Manual), press ...
Anti-scan feature
If the wrong code has been entered seven times (35 consecutive button presses), the keypad will go into an anti-scan mode. This mode disables the keypad for one minute and the keypad lamp will fla ...
Replacing lost integrated keyhead transmitters (IKTs)
If you would like to have your integrated keyhead transmitters reprogrammed because you lost one, or would like to buy additional IKTs, you can either reprogram them yourself, or take all IKTs to ...