Driving with blind spot mirrors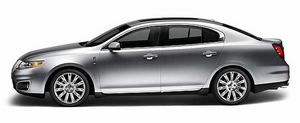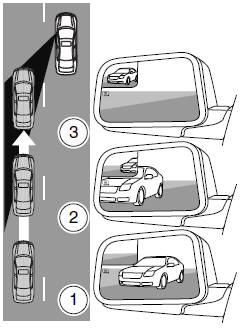 Before a lane change, check the main mirror first, then check the blind spot mirror. If no vehicles are present in the blind spot mirror and the traffic in the adjacent lane is at a safe distance, signal that you are going to change lanes. Glance over your shoulder to verify traffic is clear, and carefully change lanes.
When the approaching vehicle is at a distance, its image is small and near the inboard edge of the main mirror. As the vehicle approaches, the image becomes larger and begins to move outboard across the main mirror (1). As the vehicle approaches its image will transition from the main mirror and begin to appear in the blind spot mirror (2).
As the vehicle leaves the blind spot mirror it will transition to the driver's peripheral field of view (3).
WARNING: Objects in the blind spot mirror are closer than they appear.
See also:
Blind spot mirrors (if equipped)
Your vehicle may be equipped with blind spot mirrors or a blind spot information system. Refer to Blind spot mirrors or Blind spot information system (BLIS ) with cross traffic alert (CTA) in the ...
Reverse sensing system (if equipped)
The Reverse Sensing System (RSS) sounds a tone to warn the driver of obstacles near the rear bumper when the R (Reverse) is selected and the vehicle is moving at speeds less than 3 mph (5 km/h). T ...
Motorcraft part numbers
Refer to scheduled maintenance information for the appropriate intervals for changing the spark plugs. Note: Replace the spark plugs with ones that meet Ford material and design specificati ...