Driving with blind spot mirrors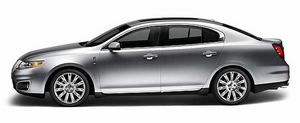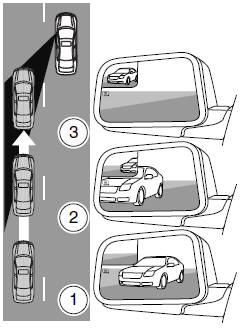 Before a lane change, check the main mirror first, then check the blind spot mirror. If no vehicles are present in the blind spot mirror and the traffic in the adjacent lane is at a safe distance, signal that you are going to change lanes. Glance over your shoulder to verify traffic is clear, and carefully change lanes.
When the approaching vehicle is at a distance, its image is small and near the inboard edge of the main mirror. As the vehicle approaches, the image becomes larger and begins to move outboard across the main mirror (1). As the vehicle approaches its image will transition from the main mirror and begin to appear in the blind spot mirror (2).
As the vehicle leaves the blind spot mirror it will transition to the driver's peripheral field of view (3).
WARNING: Objects in the blind spot mirror are closer than they appear.
See also:
Stopping and securing the vehicle
1. Park on a level surface, set the parking brake and activate hazard flashers. 2. Place gearshift lever in P (Park) and turn engine off. Removing the spare tire and jack 1. Lift the trunk ...
Exterior
It certainly wasn't the MKX's controversial looks that held me back. I like the large grille Lincoln has added to its vehicles; on larger models like the MKX, it almost looks natural. One of my ...
Bounce-back
When the window is moving upward and an obstacle or a rough road condition interferes with the window's movement, the window will automatically reverse direction and move down. This is known as ...