Performance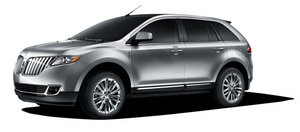 The MKX's best performance attributes are those that its rival, the Lexus, takes for granted.
This Lincoln glides softly on the road, with little wind and road noise. Even the optional 20-inch wheels didn't raise the harshness factor. The only time I noticed a problem with the suspension was over harsh road imperfections, like expansion joints. Then, the MKX would give a significant jolt Ч albeit a brief one. It stood out mostly because its drive was otherwise so pleasant.
The MKX's 305-horsepower, 3.7-liter V-6 interrupted that quiet drive every time I hammered down the accelerator. It's an unusually impressive announcement of power in this segment. I enjoyed the grunt and hustle from the line quite a bit Е until I got into that Lexus RX 350.
The Lexus may pack УjustФ a 275-hp V-6, but it's plenty swift and it feels more refined than the MKX. It just doesn't have the resonating engine roar of that SUV. Like many Lexus vehicles, you can barely tell the engine is there, even when you're pushing your right foot down hard.
Brakes on both SUVs were competent, though certainly not stellar. Mileage is also similar, with front-wheel-drive MKXs getting 19/26 mpg city/highway and the RX getting slightly less, at 18/25 mpg. All-wheel-drive versions of the MKX, like my tester, obviously have lower numbers, coming in at 17/23 mpg. The all-wheel-drive RX loses less, at 18/24 mpg.
As a driver's car, the RX handled better, leaned less during tight turns Ч like highway off-ramps Ч and had a silkier transmission. What was the Lexus' unlikely Achille's heel? It had an overly tight suspension that sent shudders through the cabin that were downright maddening on rough roads.
I could easily see a luxury shopper picking the Lincoln's more comfortable but slightly less refined driving experience over the RX 350. That's saying a lot for Lincoln.
See also:
Four-wheel anti-lock brake system (ABS)
Your vehicle is equipped with an anti-lock braking system (ABS). This system helps you maintain steering control during emergency stops by keeping the brakes from locking. Noise from the ABS pump ...
Steering
The Lincoln MKS steering system received a thorough makeover for 2013. The gear ratio is quicker (15:1 for 2013 vs. 17.1:1 for today's MKS), making the steering more immediately responsive at all sp ...
Automatic dimming interior rear view mirror
The interior rear view mirror and a driverТs side exterior mirror have an auto-dimming function. The electronic day/night mirrors will change from the normal (high reflective) state to the non-gla ...