If your vehicle goes off the edge of the pavement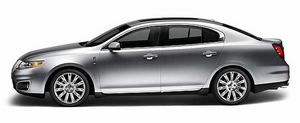 Х If your vehicle goes off the edge of the pavement, slow down, but avoid severe brake application, ease the vehicle back onto the pavement only after reducing your speed. Do not turn the steering wheel too sharply while returning to the road surface.
Х It may be safer to stay on the apron or shoulder of the road and slow down gradually before returning to the pavement. You may lose control if you do not slow down or if you turn the steering wheel too sharply or abruptly.
Х It often may be less risky to strike small objects, such as highway reflectors, with minor damage to your vehicle rather than attempt a sudden return to the pavement which could cause the vehicle to slide sideways out of control or rollover. Remember, your safety and the safety of others should be your primary concern.
See also:
MKS in the Market
In July Ч the MKS' first month of sales Ч it outsold every other Lincoln on the market, including the more affordable MKZ sedan and the MKX crossover. Sales were four times that of the S80. I'm an ...
Safety belt locking modes
All safety restraints in the vehicle are combination lap and shoulder belts. The driver safety belt has the first locking mode and the front outboard passenger and rear seat safety belts have both ...
How does the airbag supplemental restraint system work?
The airbag SRS is designed to activate when the vehicle sustains longitudinal deceleration sufficient to cause the sensors to close an electrical circuit that initiates airbag inflation. The ...