If your vehicle goes off the edge of the pavement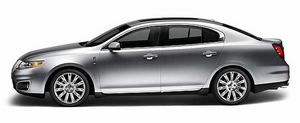 • If your vehicle goes off the edge of the pavement, slow down, but avoid severe brake application, ease the vehicle back onto the pavement only after reducing your speed. Do not turn the steering wheel too sharply while returning to the road surface.
• It may be safer to stay on the apron or shoulder of the road and slow down gradually before returning to the pavement. You may lose control if you do not slow down or if you turn the steering wheel too sharply or abruptly.
• It often may be less risky to strike small objects, such as highway reflectors, with minor damage to your vehicle rather than attempt a sudden return to the pavement which could cause the vehicle to slide sideways out of control or rollover. Remember, your safety and the safety of others should be your primary concern.
See also:
Smart unlocks
The smart unlock feature is intended to prevent you from unintentionally locking your IA key inside your vehicle's passenger compartment. When you lock your vehicle using the driver or passenger ...
Hitches
Do not use a hitch that clamps onto the vehicle's bumper; use a load-carrying hitch. You must distribute the load in your trailer so that 10–15% of the total weight of the trailer is on the tongue ...
Information on "T" type tires
"T" type tires have some additional information beyond those of "P" type tires; these differences are described below: T145/80D16 is an example of a tire size. Note: The temporary tire siz ...