Ride & Handling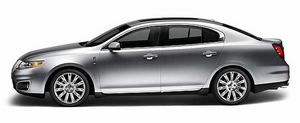 The optional Sport Appearance Package includes 18-inch aluminum wheels and a sport suspension, and the result is a notably firm ride Ч think all-wheel-drive Acura TL suspension tuning, not Lexus ES. Equipped this way, the MKZ faithfully tells you about all the rough patches in the road, whether you want to know about them or not. I suspect many buyers considering a Lincoln would prefer not to know about them Ч especially because there isn't sports-car-like handling to go along with the taut ride quality. I haven't driven an MKZ with the regular suspension and standard 17-inch wheels, but I suspect it offers better ride comfort.
Despite the sportier setup, the MKZ cruises smoothly on the highway when the pavement is good. The interior is quiet, though you start to hear a little wind noise when approaching 80 mph.
It doesn't take a lot of extra care to steer the MKZ Ч whether you're traveling country roads or the highway. The main reason is that the steering has a solid, weighty feel when traveling in a straight path that makes it easy to keep the car between the lines. This heft also prevents you from inadvertently jostling the wheel.
The MKZ's steering feel is different from what you'll find in a Lexus ES, which has well-greased, light-effort steering that's become synonymous with Toyota's luxury brand. The MKZ doesn't go that route, and I like it for that. Its steering is by no means too heavy, but the extra effort needed to turn the wheel makes you feel connected to the car in a way the Lexus can't match. Overall, the MKZ's steering feel and response are among its better characteristics.
See also:
Recycled engine coolant
Ford Motor Company does NOT recommend the use of recycled engine coolant since a Ford-approved recycling process is not yet available. Used engine coolant should be disposed of in an appropriate ...
Changing Tires with a TPMS
Note: Each road tire is equipped with a tire pressure sensor located inside the tire and wheel assembly cavity. The pressure sensor is attached to the valve stem. The pressure sensor is co ...
Safety Compliance Certification Label
The National Highway Traffic Safety Administration Regulations require that a Safety Compliance Certification Label be affixed to a vehicle and prescribe where the Safety Compliance Certific ...