The Inside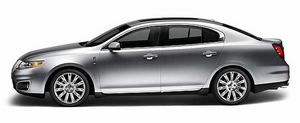 I'm not a fan of all-gray interiors, which seem drab to me Ч even more so than all-black designs Ч but that's what our MKZ had. Getting past my own preferences, however, let me appreciate a cabin with mostly good-quality materials and easy-to-use controls. However, low-grade plastic for the parking-brake handle, a roughly finished sunglasses holder and a sizable gap along the side of a storage-cubby door near the base of the center control panel stood out in the otherwise upscale cabin.
MKZs come standard with leather-upholstered, heated-and-cooled front seats. The seats are supportive and offer a good driving position, but my own seat started to get a little sore when the drive stretched to a few hours. My back didn't have any complaints, though.
The front of the cabin isn't the most spacious, and this is mainly because of the MKZ's low roofline, which limits headroom for taller occupants Ч especially with our test car's optional moonroof, which characteristically steals a little more space. At 6-foot-1, I didn't have much headroom to spare. Over-shoulder visibility when checking blind spots is good.
The rear bench seat is also finished in leather. It offers passable room for adults, but there's not much extra space. Taller passengers sit with their knees elevated, so there's not much thigh support.
A 60/40-split folding backseat is standard, with releases in the trunk to fold the backrests. Unlike many sedans that offer folding backrests, the ones in the MKZ are spring-loaded, so when you pull the release handle they're intended to automatically flop forward. That's what happens with the smaller backrest section, but not the larger one Ч maybe it's too heavy.
The downside is that it takes more effort to put the spring-loaded cushions back in place, as you have to fight that spring a little. In the end, you probably don't need a spring at all.
See also:
2010 Lincoln MKT Review
With a powerful engine and seating for seven, the 2010 Lincoln MKT gets a lot of things right. It's a fun-to-drive luxury crossover with a head-turning look, but its family-friendly features need ...
Ordering additional ownerТs literature
To order the publications in this portfolio, contact Helm, Incorporated at: HELM, INCORPORATED 47911 Halyard Drive Plymouth, Michigan 48170 Attention: Customer Service Or to order a free publicat ...
One-touch up or down (all windows)
This feature allows the windows to open or close fully without holding the control down. To operate one-touch down, press the switch completely down to the second detent and release quickly. Th ...