Tire change procedure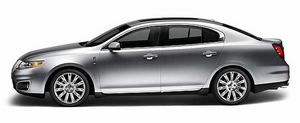 WARNING: To help prevent the vehicle from moving when you change a tire, be sure the parking brake is set, then block (in both directions) the wheel that is diagonally opposite (other side and end of the vehicle) to the tire being changed.
WARNING: If the vehicle slips off the jack, you or someone else could be seriously injured.
WARNING: Do not attempt to change a tire on the side of the vehicle close to moving traffic. Pull far enough off the road to avoid the danger of being hit when operating the jack or changing the wheel.
Note: Passengers should not remain in the vehicle when the vehicle is being jacked.

1. Block both the front and rear of the wheel diagonally opposite the flat tire. For example, if the left front tire is flat, block the right rear wheel.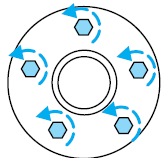 2. Remove the center ornament (if equipped) from the wheel. Loosen each wheel lug nut one-half turn counterclockwise but do not remove them until the wheel is raised off the ground.
3. Put the jack in the jack locator next to the tire you are changing.
Turn the jack handle clockwise until the wheel is completely off the ground.
Note: To avoid structural damage to the vehicle, ensure that the jack is centered between the two markings (1) on the bottom of the rocker flange.
WARNING: To lessen the risk of personal injury, do not put any part of your body under the vehicle while changing a tire. Do not start the engine when your vehicle is on the jack. The jack is only meant for changing the tire.
4. Remove the lug nuts with the lug wrench.
5. Replace the flat tire with the spare tire, making sure the valve stem is facing outward. Reinstall lug nuts until the wheel is snug against the hub.
Do not fully tighten the lug nuts until the wheel has been lowered.
If you are using the temporary tire, the lug nut washers will not appear to be flush with the rim. This is normal only when using the temporary spare tire.
6. Lower the wheel by turning the jack handle counterclockwise.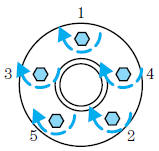 7. Remove the jack and fully tighten the lug nuts in the order shown.
Refer to Wheel lug nut torque specifications later in this chapter for the proper lug nut torque specification.
8. Unblock the wheels.
See also:
Vehicle identification number (VIN)
Vehicle identification number (VIN) The vehicle identification number is located on the driver side instrument panel. Please note that in the graphic, XXXX is representative of your vehicl ...
Roof rack system (if equipped)
Loads should never be placed directly on the roof panel. For proper function of the roof rack system, loads must be placed directly on crossbars affixed to the roof rack side rails. Your vehicle m ...
Power door locks
• Press the control to unlock all doors. • Press the control to lock all doors. ...