Wheel lug nut torque specifications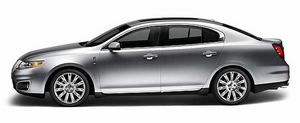 WARNING: When a wheel is installed, always remove any corrosion, dirt or foreign materials present on the mounting surfaces of the wheel or the surface of the wheel hub, brake drum or brake disc that contacts the wheel. Ensure that any fasteners that attach the rotor to the hub are secured so they do not interfere with the mounting surfaces of the wheel. Installing wheels without correct metal-to-metal contact at the wheel mounting surfaces can cause the wheel nuts to loosen and the wheel to come off while the vehicle is in motion, resulting in loss of control.
Retighten the lug nuts to the specified torque within 100 miles (160 km) after any wheel disturbance (tire rotation, changing a flat tire, wheel removal, etc.).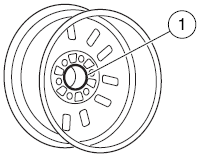 Note: Inspect the wheel pilot bore (1) and mounting surface prior to installation. Remove any visible corrosion or loose particles.
See also:
Maintenance and modifications
The suspension and steering systems on your vehicle have been designed and tested to provide predictable performance whether loaded or empty and durable load carrying capability. For this reason, ...
Intelligent Oil Life Monitor
Your vehicle is equipped with an Intelligent Oil Life Monitor that determines when the engine oil should be changed based on how your vehicle is used. By using several important factors in its cal ...
Cooled seats
The cooled seats will only function when the engine is running. To operate the cooled seats: Press the cooled seat symbol to cycle through the various cooling settings and off. Cooler settin ...