Wheel lug nut torque specifications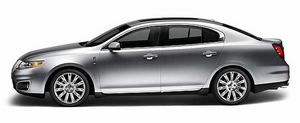 WARNING: When a wheel is installed, always remove any corrosion, dirt or foreign materials present on the mounting surfaces of the wheel or the surface of the wheel hub, brake drum or brake disc that contacts the wheel. Ensure that any fasteners that attach the rotor to the hub are secured so they do not interfere with the mounting surfaces of the wheel. Installing wheels without correct metal-to-metal contact at the wheel mounting surfaces can cause the wheel nuts to loosen and the wheel to come off while the vehicle is in motion, resulting in loss of control.
Retighten the lug nuts to the specified torque within 100 miles (160 km) after any wheel disturbance (tire rotation, changing a flat tire, wheel removal, etc.).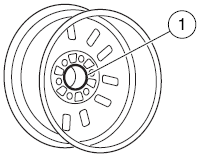 Note: Inspect the wheel pilot bore (1) and mounting surface prior to installation. Remove any visible corrosion or loose particles.
See also:
Engine oil and filter recommendations
Look for this certification trademark. Use SAE 5W-20 engine oil Only use oils certified for gasoline engines by the American Petroleum Institute (API). An oil with this trademark symbol confor ...
Multi-function lever
Windshield wiper: Rotate the end of the control away from you to increase the speed of the wipers; rotate towards you to decrease the speed of the wipers. Rain sensing wipers: The rain se ...
Extending the engine run time
To keep the engine running for another remote start duration, repeat Steps 1 and 2 with the engine still running. If you programmed the duration to last 10 minutes, the second 10 minutes will begi ...