Wheel lug nut torque specifications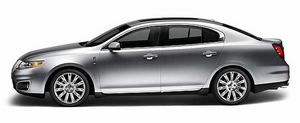 WARNING: When a wheel is installed, always remove any corrosion, dirt or foreign materials present on the mounting surfaces of the wheel or the surface of the wheel hub, brake drum or brake disc that contacts the wheel. Ensure that any fasteners that attach the rotor to the hub are secured so they do not interfere with the mounting surfaces of the wheel. Installing wheels without correct metal-to-metal contact at the wheel mounting surfaces can cause the wheel nuts to loosen and the wheel to come off while the vehicle is in motion, resulting in loss of control.
Retighten the lug nuts to the specified torque within 100 miles (160 km) after any wheel disturbance (tire rotation, changing a flat tire, wheel removal, etc.).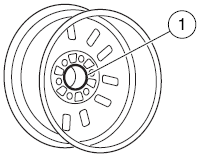 Note: Inspect the wheel pilot bore (1) and mounting surface prior to installation. Remove any visible corrosion or loose particles.
See also:
Erasing personal code
1. Enter the factory set 5Цdigit code. 2. Within five seconds, press the 1 Х 2 on the keypad and release. 3. Press and hold the 1 Х 2 for two seconds. This must be done within five seconds of comp ...
Fuel pump shut-off
In the event of a moderate to severe collision, this vehicle is equipped with a fuel pump shut-off feature that stops the flow of fuel to the engine. Not every impact will cause a shut-off. Not ...
Adding engine coolant
When adding coolant, make sure it is a 50/50 mixture of engine coolant and distilled water. Add the mixture to the coolant reservoir, when the engine is cool, until the appropriate fill level is o ...