Aluminum wheels and wheel covers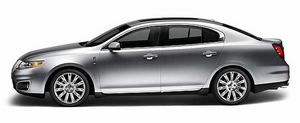 Aluminum wheels and wheel covers are coated with a clear coat paint finish. In order to maintain their shine:
Х Clean weekly with Motorcraft Wheel and Tire Cleaner, which is available from your authorized dealer. Heavy dirt and brake dust accumulation may require agitation with a sponge. Rinse thoroughly with a strong stream of water.
Х Never apply any cleaning chemical to hot or warm wheel rims or covers.
Х Some automatic car washes may cause damage to the finish on your wheel rims or covers. Industrial-strength (heavy-duty) cleaners, or cleaning chemicals, in combination with brush agitation to remove brake dust and dirt, could wear away the clear coat finish over time.
Х Do not use hydrofluoric acid-based or high caustic-based wheel cleaners, steel wool, fuels or strong household detergent.
Х To remove tar and grease, use Motorcraft Bug and Tar Remover , available from your authorized dealer.
See also:
How Temperature Affects Your Tire Pressure
The tire pressure monitoring system (TPMS) monitors tire pressure in each pneumatic tire. While driving in a normal manner, a typical passenger tire inflation pressure may increase approximately 2 ...
Getting the services you need
Warranty repairs to your vehicle must be performed by an authorized dealer. While any authorized dealer handling your vehicle line will provide warranty service, we recommend you return to your se ...
Roadside assistance
Vehicles sold in the U.S. : Getting roadside assistance To fully assist you should you have a vehicle concern, Ford Motor Company offers a complimentary roadside assistance program. This program ...