Aluminum wheels and wheel covers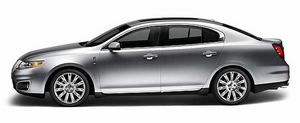 Aluminum wheels and wheel covers are coated with a clear coat paint finish. In order to maintain their shine:
• Clean weekly with Motorcraft Wheel and Tire Cleaner, which is available from your authorized dealer. Heavy dirt and brake dust accumulation may require agitation with a sponge. Rinse thoroughly with a strong stream of water.
• Never apply any cleaning chemical to hot or warm wheel rims or covers.
• Some automatic car washes may cause damage to the finish on your wheel rims or covers. Industrial-strength (heavy-duty) cleaners, or cleaning chemicals, in combination with brush agitation to remove brake dust and dirt, could wear away the clear coat finish over time.
• Do not use hydrofluoric acid-based or high caustic-based wheel cleaners, steel wool, fuels or strong household detergent.
• To remove tar and grease, use Motorcraft Bug and Tar Remover , available from your authorized dealer.
See also:
Torque vectoring control
Drivers are most likely to notice Lincoln's new Torque Vectoring Control (TVC) system when Lincoln Drive Control is set to Sport Mode. TVC helps the Lincoln MKS drive through corners with greater ba ...
One-touch up or down (front windows only)
This feature allows the driver or passenger's window to open or close fully without holding the control down. To operate one-touch down, press the switch completely down to the second detent an ...
Fuel quality
If you are experiencing starting, rough idle or hesitation driveability problems during a cold start, try a different brand of "Regular" unleaded gasoline. Do not add aftermarket fuel additive ...