Refueling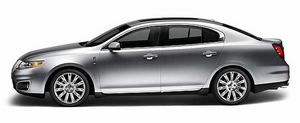 WARNING: Fuel vapor burns violently and a fuel fire can cause severe injuries. To help avoid injuries to you and others:
Х Read and follow all the instructions on the pump island;
Х Turn off your engine when you are refueling;
Х Do not smoke if you are near fuel or refueling your vehicle;
Х Keep sparks, flames and smoking materials away from fuel;
Х Stay outside your vehicle and do not leave the fuel pump unattended when refueling your vehicle Ч this is against the law in some places;
Х Keep children away from the fuel pump; never let children pump fuel.
Х Do not use personal electronic devices while refueling. It can ignite fuel vapors.
Use the following guidelines to avoid electrostatic charge build-up when filling an ungrounded fuel container:
Х Place approved fuel container on the ground.
Х DO NOT fill a fuel container while it is in the vehicle (including the cargo area).
Х Keep the fuel pump nozzle in contact with the fuel container while filling.
Х DO NOT use a device that would hold the fuel pump handle in the fill position.
See also:
Preparing your vehicle
When the battery is disconnected or a new battery is installed, the automatic transmission must relearn its shift strategy. As a result, the transmission may have firm and/or soft shifts. This ope ...
Seat-mounted cup holders and armrest storage compartment
To access the cup holders, fold the armrest down. WARNING: Use only soft cups in the cup holder. Hard objects can injure you in a collision. ...
Identifying components in the engine compartment
3.5L V6 engine 1. Power steering fluid reservoir 2. Transmission fluid dipstick 3. Brake fluid reservoir 4. Battery 5. Power distribution box 6. Air filter assembly 7. Engine oil dipstick 8. ...