Refueling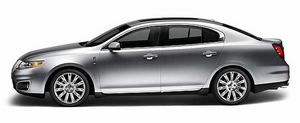 WARNING: Fuel vapor burns violently and a fuel fire can cause severe injuries. To help avoid injuries to you and others:
• Read and follow all the instructions on the pump island;
• Turn off your engine when you are refueling;
• Do not smoke if you are near fuel or refueling your vehicle;
• Keep sparks, flames and smoking materials away from fuel;
• Stay outside your vehicle and do not leave the fuel pump unattended when refueling your vehicle — this is against the law in some places;
• Keep children away from the fuel pump; never let children pump fuel.
• Do not use personal electronic devices while refueling. It can ignite fuel vapors.
Use the following guidelines to avoid electrostatic charge build-up when filling an ungrounded fuel container:
• Place approved fuel container on the ground.
• DO NOT fill a fuel container while it is in the vehicle (including the cargo area).
• Keep the fuel pump nozzle in contact with the fuel container while filling.
• DO NOT use a device that would hold the fuel pump handle in the fill position.
See also:
Remote start
The remote start feature allows you to start the engine from outside the vehicle. If your transmitter has a icon, you have remote start. The remote start feature has an extended operating range ...
Adaptive cruise control (acc) (if equipped)
Adaptive cruise control (ACC) is much like speed control, only this system is designed to automatically adjust your speed to maintain a proper distance between you and the vehicle in front of you ...
Driver-assist technologies
The 2013 MKT offers a complete collection of driver assist technologies in addition to the array of six airbags, anti-lock brakes (ABS), traction control and AdvanceTrac® with RSC® (Roll Stability C ...