Refueling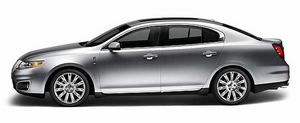 WARNING: Fuel vapor burns violently and a fuel fire can cause severe injuries. To help avoid injuries to you and others:
Х Read and follow all the instructions on the pump island;
Х Turn off your engine when you are refueling;
Х Do not smoke if you are near fuel or refueling your vehicle;
Х Keep sparks, flames and smoking materials away from fuel;
Х Stay outside your vehicle and do not leave the fuel pump unattended when refueling your vehicle Ч this is against the law in some places;
Х Keep children away from the fuel pump; never let children pump fuel.
Х Do not use personal electronic devices while refueling. It can ignite fuel vapors.
Use the following guidelines to avoid electrostatic charge build-up when filling an ungrounded fuel container:
Х Place approved fuel container on the ground.
Х DO NOT fill a fuel container while it is in the vehicle (including the cargo area).
Х Keep the fuel pump nozzle in contact with the fuel container while filling.
Х DO NOT use a device that would hold the fuel pump handle in the fill position.
See also:
Radio control features
Ц VOL + (Volume): Press to decrease or increase the volume. (Seek): Press to select the previous/next radio station preset, CD track or satellite radio station preset depending on whic ...
Checking the engine oil
Refer to the scheduled maintenance information for the appropriate intervals for checking the engine oil. 1. Make sure the vehicle is on level ground. 2. Turn the engine off and wait 15 minutes ...
Autounlock feature
The autounlock feature will unlock all the doors when: Х the ignition is in the on position, all the doors are closed, and the vehicle has been in motion at a speed greater than 12 mph (20 km/h); ...