Refilling with a Portable Fuel Container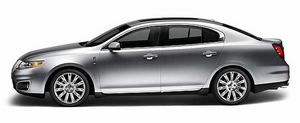 WARNING: Do not insert the nozzle of portable fuel containers or aftermarket funnels into the Easy Fuel system. This could damage the fuel system and its seal, and may cause fuel to run onto the ground instead of filling the tank, which could result in serious personal injury.
WARNING: Do not try to pry open or push open the Easy Fuel system with foreign objects. This could damage the fuel system and its seal and cause injury to you or others.

With the Easy Fuel "no cap" fuel system, use the following directions when filling from a portable fuel container:
When filling the vehicle's fuel tank from a portable fuel container, use the included funnel.
1. Locate the white plastic funnel. It is attached to the underside of the spare tire cover or is included with the tire changing tools.
2. Slowly insert the funnel into the Easy Fuel system.
3. Fill the vehicle with fuel from the portable fuel container.
4. When done, clean the funnel or properly dispose of it. Extra funnels can be purchased from your authorized dealer if you choose to dispose of the funnel. Do not use aftermarket funnels; they will not work with the Easy Fuel system and can damage it. The included funnel has been specially designed to work safely with your vehicle.
See also:
Getting the services you need
Warranty repairs to your vehicle must be performed by an authorized dealer. While any authorized dealer handling your vehicle line will provide warranty service, we recommend you return to your se ...
Hazard flasher control
The hazard flasher control is located on the instrument panel above the climate controls and below the audio controls. The hazard flashers will operate when the ignition is in any position o ...
Infant and/or toddler seats
Use a safety seat that is recommended for the size and weight of the child. When installing a child safety seat: • Review and follow the information presented in the Airbag supplemental rest ...