Refilling with a Portable Fuel Container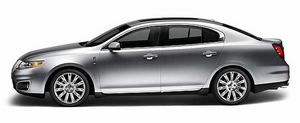 WARNING: Do not insert the nozzle of portable fuel containers or aftermarket funnels into the Easy Fuel system. This could damage the fuel system and its seal, and may cause fuel to run onto the ground instead of filling the tank, which could result in serious personal injury.
WARNING: Do not try to pry open or push open the Easy Fuel system with foreign objects. This could damage the fuel system and its seal and cause injury to you or others.

With the Easy Fuel "no cap" fuel system, use the following directions when filling from a portable fuel container:
When filling the vehicle's fuel tank from a portable fuel container, use the included funnel.
1. Locate the white plastic funnel. It is attached to the underside of the spare tire cover or is included with the tire changing tools.
2. Slowly insert the funnel into the Easy Fuel system.
3. Fill the vehicle with fuel from the portable fuel container.
4. When done, clean the funnel or properly dispose of it. Extra funnels can be purchased from your authorized dealer if you choose to dispose of the funnel. Do not use aftermarket funnels; they will not work with the Easy Fuel system and can damage it. The included funnel has been specially designed to work safely with your vehicle.
See also:
Second generation (2003–2006)
The Navigator was updated in 2003, along with the Ford Expedition, on the new Ford U platform. The interior was also substantially revised to bring it up to the level expected by luxury buyers. So ...
Safety and environment protection
Warning symbols in this guide How can you reduce the risk of personal injury to yourself or others? In this guide, answers to such questions are contained in comments highlighted by the warning t ...
Unlocking and locking the doors using keyless entry
To unlock the driver's door, enter the factory set 5-digit code or your personal code. Each number must be pressed within five seconds of each other. The interior lamps will illuminate. Note: If t ...